very first WIAW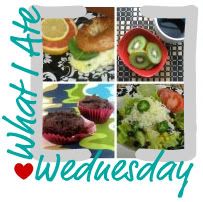 And I couldn't be more excited!! Thank you Peas and Crayons  for hosting and welcoming this new veggie!
Can't start my day without my coffee. French press style! love it.
Then:
the.best.breakfast.ever.
kamut puffs
 barbaras cinnamon puffins
cascadian farms organic cinnamon crunch
trader joes mocha yogurt
amazing.
♥ ♥ ♥
I have to thank Amanda at Running with Spoons for basically giving me the most amazing snack ever.  She has self titled it [i've died and gone to] heaven in a bowl, and I must agree.  It was probably one of the most delicious things I have put into my mouth in awhile. So Amanda. I thank you.
To share the wealth here is the recipe.
. [i've died and gone to] heaven in a bowl .
Serves 1
Ingredients:
½ cup cottage cheese
1 scoop vanilla protein powder (i used chocolate)
1 Tbsp. cocoa powder
1/2 banana
1/4 tsp. vanilla extract
And of course feel free to add whatever toppings your little heart desires
(banana, dried fruit, granola, almond butter)
Directions:
Throw the cottage cheese, protein powder, cocoa, banana, and vanilla into a blender.  Blend until a "whipped" consistency has been reached.
Empty into a bowl and throw on your desired toppings.
♥ ♥ ♥
Lunch was pretty great too. Not the most photogenic lunch, but delicious.
Panini grilled veggie sandwich on pumpernickel bread with a side of kale chips.
Kale chips are my absolute new favorite obsession.
On the sandwich:
eggplant bacon, roasted zucchini, caramelized onions, baby spinach, alfalfa sprouts and red pepper hummus.
♥ ♥♥
Dinner was random, but delicious and filling.
 I hope you enjoyed my first WIAW, I certainly enjoyed writing it. And eating it!
♥ ♥ ♥
Do you prefer your sandwiches hot or cold?
Do you remember your first WIAW post?
You can leave a response, or trackback from your own site.