WIAW #5 – why i ate them
Before we get started make sure to head over to PeasandCrayons and thank the lovely Jenn for making all this possible.
Thanks Jenn! ♥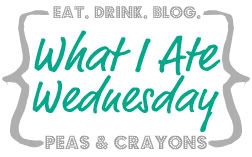 For this weeks WIAW I decided not to do a complete day of eats, but what some of my favorite meals have been and some of the products that are the reasons why they are so tasty. Because let's be honest, without amazing products we can not make the amazing meals we eat.
♥ ♥ ♥
We have to start the day off healthy.  Gotta take my candy. Then the meals can begin.
And just in case you are interested in what I take, it's really only the basics.
 ♥ ♥ ♥
Breakfast:
First off Nature's Path Crunchy Maple Sunrise is a great cereal.  Not only does it use natural ingredients, the touch of maple is just sweet enough to satisfy my sweet tooth without being super sugary. And let's not pretend that I just use regular milk in this cereal. Oh no.  It's a mix of Trader Joe's Pomegranate Kefir and Silk Dark Chocolate Almond milk.  I can't tell you how amazing it makes just a 'plain ole bowl of cereal'.
The english muffin is Rudi's – Harvested Seed, these muffins are amazing.  I've had a few english muffins in my days and especially being gluten free these really hit the spot.  But the star of the show? Artisana Organic Cacao Bliss.  This stuff is absolutely amazing and I put it on almost everything now. It's basically chocolate coconut butter. I have never been a huge coconut fan, but I honestly am obsessed with this stuff.  Maybe because it's chocolate?  I mean, I have always been a fan of chocolate. On the other half,  this jam in blueberry.  It is fabulous.  I've tried some of the other flavors, but blueberry by far tops them all.
♥ ♥ ♥
Lunch:
I can't take credit for the original concept of this lunch, Tori was my true inspiration.
This lunch is not for the faint of (sweet)hearts. I add so much sweetness (yea I'm pretty sweet) to this meal that it makes me write horrible puns.  But this lunch was so good, it was repeated at least 3 times. Each time improving on the last. And the last, oh the last one is worth writing home about. (I don't really know that my mom would care about my lunch, so I'll just write on here about it, I know you care)
Take a look at that setup.  And what did I use to make this sandwich happen and special.  It might be the soy chocolate pudding by ZenSoy. It's pretty fantastic.  And I'm not gonna lie; Kalona Super Natural organic cottage cheese, is seriously probably by far the best cottage cheese I've had.  I know not everyone is cottage cheese crazy like me, but I love the stuff, and this stuff tops the cottage cheese charts. And what made this particular sandwich better than the rest?  The addition of the banana bread hummus. This sandwich will satisfy anyone's sweet tooth. Guaranteed.
I seriously can't get enough of this sandwich and you can add anything you want to it, add some soy pepper-jack cheese like I did when I made it earlier in the week, you can add banana, chocolate chips, nut butter, jam, go crazy.  That's the amazing thing about sandwiches and panini's you can put whatever your little heart desires on them. I won't judge you.
♥ ♥ ♥
Dinner:
I think we have all figured out that I like to throw random things together and call it a meal.
Some on my tastiest meals are made that way and there are a few things I always have on hand that make it possible for me to make these random concoctions.  Whole wheat tortilla pizza's are one of my favorite things to experiment with and they are so easy to make. The tortilla is like a blank canvas just waiting to be drawn on.
(wow nice metaphor right?)
And of course there were some staple go to products that made this delicious pizza possible.
First is the pumpkin. I use Farmer's Market organic pumpkin, it's pretty tasty. We all know I ordered a whole case of it. The garlic hummus is from whole foods, now when I make my pizza's I usually just use whatever hummus I have available, but for this specific pizza I used Cedar's. I've tried multiple flavors and they are all pretty tasty.
The tortilla is actually a local tortilla that I get at my supermarket and I will say the tortilla matters so much in the overall taste of the pizza.  Not sure if it's available to everyone, but the brand I use is Alejandro's, they are made in a mexican restaurant in Tucson, AZ. But seriously, they are amazing.
 ♥ ♥ ♥
And last but not least we simply can not forget about all the snackage. Because let's be real, there's a lot of it.
But there are plenty more snacks that make repeating appearances.  What can I say when I find something I like, I eat it until I don't like it anymore.  I know everyone needs a little variety in their life, but why mess with a good thing?
Yogurt obsessed? Maybe, I buy a different kind each time I go to the store. Gotta find my favorites, and there have been a few duds (goats milk yogurt? not a win in my book. bleh. but i just had to try it).  But I can always count on my greek yogurt.  Chobani  and Fage plain greek yogurt are my main go to yogurts. They never let me down.  Add a side of Barabara's Snackimals and you have the best late night snack ever. What add some blueberries? Ok. A little PB&J sushi? Looks cute, tastes better. Thank Jenn at Peas and Crayons for that one. English muffin halves, can't make up my mind. Synergy get's me going, love probiotics.  Cottage cheese and jam on a kamut puff cake? Good morning OR good night. You decide.
♥ ♥ ♥
So there we have it.  Some of my favorite meals and some of my favorite products.
♥ ♥ ♥
What are some of your favorite products?
Is there something you always have to have on hand?
You can leave a response, or trackback from your own site.