WIAW #6 – breakfast all day
Good morning loves.
Another wonderful Wednesday, which means another wonderful par-tay hosted by the beautiful Jenn at PeasandCrayons.
♥love that girl ♥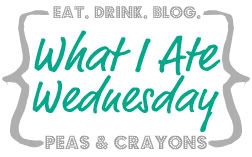 So I think the title says it all. I had breakfast for every single meal.
I did it. I'm not ashamed.
I have been on such a sweet kick lately it's ridiculous.
Soy chocolate panini obsessed anyone? Although sometimes that feels like dessert. Again. No shame.
Ruts are becoming my trend, but I don't like to look at them as ruts, just listening to my cravings. So what if I had breakfast for all my meals.  Whose to say a specific food is "breakfast" food anyways.  Why so obsessed with labels? With that being said, here is my day of breakfast. (and trust me, I enjoyed every bite)
♥ ♥ ♥
My real breakfast was OIAJ. One of the best ways to start a day.
This was the first almond butter I tried and has been the best I've had. And I've tried quite a few others.  I don't know what it is about it, but it is amazing.  The only bad/good thing was I don't think I mixed it well enough in the beginning so it got dry towards the bottom.  Which was bad when I was trying to spread it, but it was good when it came time for the OIAJ because there was a lot left over on the bottom.  And that was great!
It is always a great day when it's started off with OIAJ. Why is everything better with nut butter? Seriously. If I had a nut allergy, I would be a sad sad girl.  All of you who are, my apologies and condolences.
♥ ♥ ♥
On to lunch breakfast #2
I recently did a post of eating what you crave, and I am still a firm believer in that.  I am definitely in a sweet/breakfast rut.  (an un-pictured bowl of cereal was consumed as a snack as well) And I think that's ok.  I still make sure I get my proteins and fats in, but thankfully nut butters are awesome for that!
♥ ♥ ♥
And just when you thought I would get sick of oats.
Dinner. Breakfast #3
I seriously put protein frosting on everything now.  It's like crack. I bought a few sample packs of Spiru-Tein in chocolate, vanilla, cappuccino and cookies and cream.  I've used the chocolate which is really really good and today was the first time I used the cappuccino.  I'm a fan.  I'm super excited to use the cookies and cream! They have a chocolate peanut butter flavor as well, but didn't have it in the sample pack, and I didn't want to buy a huge container unless I knew I liked it.  Although peanut butter flavored anything you can't really go wrong with.
Maybe tomorrow I'll be done with my breakfast rut. Maybe not. I've noticed I tend to this do this, get comfortable with a certain meal and make it over and over, but in the end I move on to something new and different.  I see this one as being no different, so I have faith I'll move on…Eventually.  But until then. I'm happy.
♥ ♥ ♥
Have you ever had breakfast for every meal?
Do you like OIAJ or do you prefer it in a bowl?
(Note: I finally ordered peanut flour from iHerb.com! I am so excited to try this stuff as I heard it's great in so many things! Please feel free to tell me how you use it. Also use this code to get $5 off your first order! YAL235  Seriously if you have not shopped there you need to. SO much cheaper than the stores!)
You can leave a response, or trackback from your own site.