wiaw #10 – forgive me
Wow already that time again and I am definitely not prepared!
Please forgive me!
But first before we talk about my lack of photo taking, let's head over to the lovely Jenn's and give her a big thank you for hosting What I Ate Wednesday.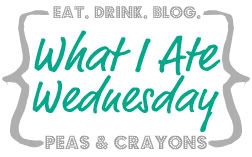 ♥ ♥ ♥
I had been given multiple challenges by my nutritionist and I even made one for myself!
But with these challenges I had felt my dishes weren't really photograph worthy, that and by time the dishes were done, half the time I was so hungry I did not want to take the time to take pictures!
So this will be more of a What I Always Seem To Be Eating post instead.
It'll work right?
I've actually been trying to simplify my oatmeal a bit, but I just can not go with out some peanut butter. Or banana. It's just a must.
Another delicious bowl of oats I devoured.
Seriously the Cville Clusters granola is like crack. I'm going to be super sad when it's gone. So glad I got the sale on OpenSky.
♥ ♥ ♥
One of my challenges was to make cheese enchilada's.  I have been avoiding real cheese in general, I don't eat much dairy (other than yogurt I just can't help myself) and of course I'm sure my ED had something to do with my avoidance of cheese.  But I told myself I would do this, and when we went shopping Matt wouldn't even let me get the reduced fat cheese. That jerk. 🙂
We went to Trader Joe's to pick up some ingredients, as their products are just simply amazing, and if you haven't tried their enchilada sauce, you must.  It seriously is amazing and makes a world of a difference. I love it. But what don't I love at Trader Joe's?  I mean seriously, ketchup addiction? Best bean dip ever?  The list goes on.
No pictures, but let me tell you the enchilada's were delicious!  I can't say I felt so wonderful after dinner and giving myself time to think about what I ate. But the fact that I ate them was a huge accomplishment for me.
♥ ♥ ♥
And it's actually been a very long time since I have had one of these. I kind of miss them.
♥ ♥ ♥
Another challenge I had was oddly an Amy's vegetarian pot pie.  My nutritionist wanted to see if the fat content would keep me fuller.  Now, my stomach has actually been leveling out a bit so it kept me decently satisfied.  I definitely didn't feel "stuffed" after eating it, but I also didn't let myself eat anything after it.  I also paired it with a small side salad, so that might have helped keep me a bit more full.  On a side note, those pot pies are pretty darn good!  I had never had a pot pie before.  Amy, you did well.
♥ ♥ ♥
So I am finding that these food challenges are…I guess quite easy to eat?  I mean, it is food I use to love, so I really enjoy eating the dishes.  But all my weight gain, and body image issues is really what's killing me.  I am so not happy with my body right now and feel so ugly.  I can not wait for the day I can look in the mirror and be happy.  Be proud of my curves, be happy with my belly pouch, and not worry about the size of my thighs. -sigh- in a perfect world right?
♥ ♥ ♥
Oh and by the way, the next time you use up all your greek yogurt, you should do this.
♥ ♥ ♥
And to try and make up for my lack of photo taking, you have this cutie patootie.
♥ ♥ ♥
So although I don't have pictures of my recent eats, they were definitely worth mentioning.  I'm proud of myself for meeting my nutritionist challenges, I just mentally want to be at a place where I can be happy with my body.
♥ ♥ ♥
What do you love about your body?
Do you accept your flaws?
Do you ever find sometimes you are so hungry you can't wait to take pictures? Gah, this happens to me a bit too often!
Do you still love your football team even if they have a 0-5 season after being undefeated and winning the superbowl?
(Rhetorical question)
Go Colts.
You can leave a response, or trackback from your own site.