wiaw #18 – cookie extravaganza
Whew.
What a day. I'm pooped.
Why you ask? Because I spent all day baking cookies.
I didn't have any appointments today and kind of wanted to do something to distract so I just wasn't sitting around all day.  So I decided I was going to bake cookie's for Matt's co-workers.  Let me tell you. Baking is a great distraction.  I was running around all day!  But you know what I had a blast!  I also thought this would be a nice little challenge for me and my eating disorder as well. Because I made real cookies. You heard me. Butter, Oil, Eggs. Everything. And I told myself I would taste every single batter. I even made Oreo Truffles.  Another point I made myself do was eat a whole Oreo.
You know what.  It wasn't nearly as hard as I thought it would be, and I didn't feel nearly as guilty as I thought I would. I had no desire to restrict the rest of the day at all.
Do you know how refreshing that is? It's very refreshing. I think I may be on my way!
♥ ♥ ♥
So for this What I Ate Wednesday I thought I would share my cookie extravaganza with you!
But before we start this What I Ate Wednesday, in all it's cookie glory-ness, let's head over to Jenn's at PeasandCrayons and thank her for being such a lovely host.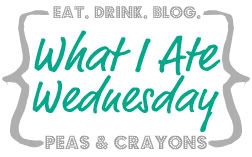 ♥ ♥ ♥
First let me show you what I had decided to make and where I got my lovely inspirations. Because these ladies are all amazing and deserve a little spot light as well.
If you've been following my blog at all you know all the camera issues I am having so it might be nice to see some nice pictures of what I made.
I will admit mine all came out super tasty, so it might only be the photography that is better. 😉
♥ ♥ ♥
Recipe from Sweet Tooth Sweet Life
(the lovely miss Courtney)
♥ ♥ ♥
Recipe from Iowa Girl Eats
♥ ♥ ♥
Recipe from Peanut Butter Fingers
♥ ♥ ♥
Now on to my creations.
Let's start with the Oreo Truffles because I they got a lot more picture time than most.
(By the 4th batch I was not as picture happy)
Ok so I didn't eat the whole bowl, but I did eat one whole Oreo. and.enjoyed.every.bite.
Go me!
I was so rushed trying to get everything done in time to drive up to Matt's work to deliver them I forgot to take pictures after the second coating of crushed Oreos. So use your imagination!
♥ ♥ ♥
Up next.
Pumpkin Spice Cookies.
Easiest cookies ever made. And super delicious. Don't let the simplicity fool you.
♥ ♥ ♥
Up next, another super easy cookie.
Well this turned kind of into a mini cake because my batter was too runny to make it on a cookie sheet. So into the muffin pan it went.
Little chocolate cakes!
I'm seriously a sucker for anything chocolate.
♥ ♥ ♥
And last, but very not least.
Peanut Butter Cookies with Reese's Peanut Butter Cups.
Really? How could these not be amazing.
I was the most nervous about these because I actually made these from scratch.  Matt (and everyone else) said they were amazing.  The speed at which they were devoured was record breaking.
♥ ♥ ♥
Finished Product.
Sadly not all the plates got ribbon like I planned.  Packaging did not really happen other than in the form of saran wrap.
This girl ran out of time.
And energy.
♥ ♥ ♥
So overall the cookies went over great!  Seriously the best compliment was, by time I was done passing out the plates to the entire office, the first people I gave plates to had already finished their whole entire plate!  I got nothing but compliments.  Made my crazy day very worth it, and I'm glad I got to see everyone actually enjoy them. And I also had a great time in the kitchen and again the fact that I did not feel horrible about myself after indulging was so refreshing.
♥ ♥ ♥
 Have you baked cookies this holiday season?
What is your favorite cookie?
If you want any recipes please let me know and I can post them!
You can leave a response, or trackback from your own site.