wiaw #19 – birthday edition
I first want to thank you all for all your thoughts and prayers on my grandma.
All I can do is stay positive. For her and for me.  I pray everyday for her and appreciate your kind thoughts.
♥ ♥ ♥
But today is a special day.
Not only is it What I Ate Wednesday, but it is also.
My Birthday!
And not just any old birthday. It's my golden birthday!
(For those that don't know, your golden birthday is when you turn the age of the day you were born on. So I was born on the 28th and am turning 28 this year. Yes I'm old)
Gosh. Almost 30. Can you believe that?
♥ ♥ ♥
So for this edition of What I Ate Wednesday, I of course am going to shake things up a bit.
Do I ever do anything traditional?
First let's take a look at my early birthday breakfast.
Someone got excited! And a bit carried away!
♥ ♥ ♥
oh yes. oiaj. it was a special occasion.
♥ ♥ ♥
With sprinkles. Duh. It's my birthday!
♥ ♥ ♥
And you seriously can't get much better than a Justin's Almond Butter jar.  It was de-lish.
topped with banana, a drizzle of protein/peanut butter, and sprinkles!!
A very nice birthday breakfast if you ask me.
♥ ♥ ♥
Now, before I get on to my real point in my WIAW post let's all head over to the beautiful Jenn's at PeasandCrayons and thank her for hosting this event.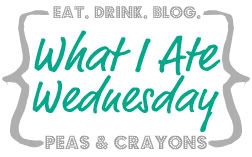 ♥ ♥ ♥
Ok guys, so here is what I really want to do for What I Ate Wednesday. I am having a birthday party tomorrow hosted by two of Matt's wonderful co-workers.  Since I have been baking up a storm lately they have requested I bring some baked goodies. Uh, how could I say no? I have been enjoying baking so much!!
I have really wanted to try and experiment with new and different recipes and have found some great ones, but can't make up my mind! I also would love to hear what your favorite recipes are and if you have any suggestions. But here are a few that I am lingering on.  Will you help me pick? You will? Aw, you guys are great.
I mean it is my birthday and all. 😉
I have really wanted to experiment with more raw recipes. You'll see that. Quite a few of my ideas are raw.
These are very high on my list of ones to make.
And while we're on the topic of thin mints.
I like thin mints. Can you tell?
Raw Vegan Chocolate Chip Cookie Dough Balls
And one last one that didn't have a picture, but sounded super tasty.
(Considering I am on a huge jam kick still)
Vegan Chewy Chocolate Raspberry Cookies
♥ ♥ ♥
Ok so I know most of my options are raw, but I am totally up for traditional idea's as well.
So please let me know if you have any favorite cookie/bar/cupcake recipes you would like to share!
♥ ♥ ♥
I hope everyone had a very safe holiday! And I hope everyone has an amazing New Year!
And before I go. I have to brag about this little girl!
♥ ♥ ♥
Let's just say she was treated quite well this year!
♥ ♥ ♥
When was your golden birthday?
Did you have a good Christmas? What was your favorite gift?
Mine was the morphie iPhone case Matt's parents got me. I had really been wanting one. I love it. I find I am playing with my phone so much more just to play with the case. Nothing real special, but it's just super convenient that it charges my phone.
Do you have any New Year's Plans?
(And don't forget to send those recipes!)
You can leave a response, or trackback from your own site.