wiaw #26 – ups and downs
Hello loves!
♥ ♥ ♥
I first want to say Happy Valentine's Day (I know a bit late) but I truly hope you all had someone special to spend it with.  Whether it be a significant other, or just simply family or loved ones.
i love cupcakes.
I'm not a huge Valentine's Day person in the sense of having to have a big celebration, but I do look at it as a day of love, and that can be with anyone.
I just am lucky to have a wonderful fiance to spend it with.
♥ ♥ ♥
Matt and I decided to do a low key Valentine's Day as we typically do. We went to one of our favorite vegan restaurants, The Green Restaurant.  Matt is not vegetarian anymore, but he was kind enough to take me there.  Their food is so good, even if you aren't a vegetarian I think you would enjoy it. I will be doing a Valentine's Day update post tomorrow, so check back to see how my day went!
♥ ♥ ♥
Here's a sneak peak of something I got to enjoy a day early!
what was left of the chocolate covered strawberries matt and i devoured.
We had met Matt's parents for lunch and we got an early Valentine's Day gift. All I can say is yum! Clearly I couldn't wait to take a picture before this happened.
♥ ♥ ♥
But since this is What I Ate Wednesday, and I have actually switched things up a bit, I thought I would share with you some new eats.
So we know my drill. Head over to the beautiful Jenn's at PeasandCrayons and check this little shin dig out. The lovely lady is so kind to host this every week and I truly look forward to it!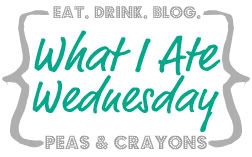 ♥ ♥ ♥
So what's with the title you ask?  Well. Things have been good and bad around here. I'm pretty open about my life on here, so if you follow me, even just occasionally, you know that I am in my recovery process from an eating disorder.  Things were really hard in the beginning, but I pushed through and made great progress. I started school and then things just kind of. Tapered off.  I think I let myself use school as an excuse to not push as hard, and got to a comfortable spot.  Well, let's just say my therapist and nutritionist were not happy with my stagnant stand still and have really been getting on my case about my lack of weight gain.  Also the fact that I was eating pretty much the same foods everyday.  Ruts anyone? But I have recently really started to push myself again. To remind myself that I need to gain weight.  And that I will not become overweight over night.  My nutritionist is amazing and flat out tells me she will never let me be overweight. I trust her to recognize if I get in bad habits or patterns. So lately I've done the work.  Am I a bit uncomfortable? You bet. But it is what I need to do to beat this, and I will do what it takes.
♥ ♥ ♥
So let me show you some fun new eats I have had lately.
I had seen a picture on Food Gawker and I just couldn't get this simple lunch out of my head.  I finally made my own little version.
The original recipe was for a chive spread, but I didn't really have anything to make it with, but I did have a laughing cow swiss cheese wedge that I used as my base. Topped with alfalfa sprouts and some tomato.  So simple, but seriously so tasty. I used Ezekial sprouted bread which I am obsessed with. I am totally a carb girl, so good bread gets me really excited and really makes a difference when it comes to simple sandwiches.
I've been seeing these guys all over the blog world and on my last trip to Trader Joe's I decided to give in and buy a bag! I had been wanting to switch up my fruits anyways, I feel like all I eat are banana's and apples. I could probably become one! I forgot how much I liked oranges. And so pretty too!
♥ ♥ ♥
Another new and simple recipe came at dinner time.
Again, super simple. I haven't used canned condensed soups in forever. And for good reasons. Some of the stuff they put in there. Meh. But again, I saw a recipe for this and thought hey why not. I need to start challenging myself and eating things I'm not 100% comfortable with, because sometimes I really think the whole "healthy eating" is just a cover up and an excuse for restricting. Not all, and not everyone. But some. And a few preservatives now and then won't kill me!  So I put some garlic infused cream of mushroom soup with some linguini and added some peas. Baked this bad boy up for a bit and enjoyed!
it was actually pretty tasty. and i enjoyed it more than i thought i would.
I really am working hard on trying to add a little variety to my diet. Even if it's not a fancy meal, something different is still good.

Again, it was super simple, but a nice change from what I had been eating.
i.love.peas.
No really. I love peas. I love almost any veggie though. I'm weird. I know.
♥ ♥ ♥
Another challenge that I'm pretty proud of happened a few days ago.
I had been  craving fro-yo lately. (Heather I totally blame you) and I saw a Groupon for a place near Matt's work that we hadn't tried. Talk about impulse buy! Come to find out it was one where you had to use it that day! No backing out for me, I was not wasting my money. So I drove out to surprise Matt and really pushed myself to make a normal sized cup. Not a eating disordered portion. And you better believe I devoured it all!
demolished!
I enjoyed every last bite of this! Oatmeal cookie and thin mint yogurt topped with strawberries, pineapple, graham cracker crumbs, cotton candy sprinkles and a few marshmellows.
This thing was delish!
matt clearly enjoyed his too!
I don't even remember what all went into Matt's. Like five different flavors. I did get a bite of his red velvet cake and that was pretty tasty as well!
So I was very proud of myself because I finished my whole cup. No guilt. No hard feelings. I just simply enjoyed it!
♥ ♥ ♥
Did you have a good Valentine's Day?
Have you been in a situation lately where you had to push/challenge yourself?
How do you get those hard uncomfortable times?
You can leave a response, or trackback from your own site.