wiaw #34 – how i use a can of pumpkin
Hello Loves!!
♥ ♥ ♥
Remember me?
I know. I have been a very bad blogger lately. But I promise you I will make it up to you! I have a few exciting posts that will be coming in the near future so make sure you check back!
The reason for my absence?  Well we all know school has taken over my life, but honestly, life has been kind of non-exciting. Nothing is really going on. And maybe I need to change that. I have definitely gotten into a rut. A rut of not doing anything.  On the weekends I am letting Matt win, by not doing anything or going out. It's like I have to force the kid to go outside. Ok so it's already 100 degrees here and he works hard all week, but it's good to get up and moving!  Maybe that just means I need to try a little harder, give him a little shove. Or if necessary drag him out the door. I can do it. 😉
♥ ♥ ♥
But I thought I would come around for What I Ate Wednesday.  You guys are also super inspiring, so maybe this will be a good kick in the butt for me!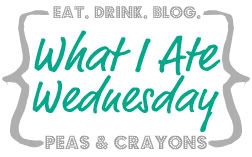 ♥ ♥ ♥
This addition is definitely what I've been doing with pumpkin lately.
You know when you open a can for one dish or recipe, and then you have this whole can left.
Well loves. I've been putting it to some interesting, yet tasty uses!
♥ ♥ ♥
Breakfast creations have been:
Pumpkin Oats!
I seriously think it is mandatory to put coconut butter in pumpkin oats. Also a little sprinkle of cinnamon love.
These things are amazing.
(I've also made this with an addition of adding chocolate protein powder at the very end. Oh my tasty)
♥ ♥ ♥
One of my other creation favorites.
Homemade Pumpkin Peanut Butter and Pumpkin Tofu Scramble.
Seriously. Adding pumpkin to everything makes it better.
♥ ♥ ♥
Lunches and dinners have been pumpkin-tastic as well.
I love quesadillas. And I will seriously stick anything in them.
No really.
I think a pear once made it into one of my quesadillas. Now I call them quesadillas, but there is rarely, if ever cheese in them. It's just a mixture of everything else.
That's ok with me.
This was yes, a sweet quesadilla.
Yup. There is an apple in there. Along with some pumpkin. Probably some cinnamon. You never know with me.
I'm crazy.
♥ ♥ ♥
Another pumpkin addition.
Hummus Tortilla Pizza. With the addition of pumpkin of course.
Again. Super-duper tasty.
♥ ♥ ♥
My can still isn't gone though.
I'm working on it though.
It's a hard life I know.
♥ ♥ ♥
Again be sure to check back soon because I got a wonderful gift from the beautiful people at Artisana.
(Prepare to be jealous)
Yup, this girl has a lot of baking to do.
♥ ♥ ♥
I hope everyone has a lovely rest of the week.
♥ ♥ ♥
Do you have any recipe's with nut butter you would recommend?
What is your favorite outside activity?
You can leave a response, or trackback from your own site.