wiaw 39 – let's get fruity
Hello loves!
♥ ♥ ♥
As the title says, let's get fruity! I am been on such a fresh fruit kick lately, it's been a bit ridiculous.
Ridiculous in the best way possible of course.
I mean really how can you go wrong with fruit?
Now I still love my veggies, don't get me wrong, but there is something about summer and warm weather that makes me crave everything fruit.
♥ ♥ ♥
So since it is that time of the week. Oh yes, What I Ate Wednesday time, I thought I would show case some of my lovely meals and snacks that include fruit. Because there have been a lot of them.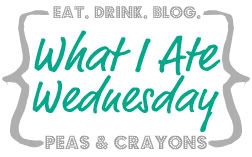 ♥ ♥ ♥
I have also oddly enough been on a cereal kick as well.
I took a huge break from it, and I guess my body missed it. Craved it. I gave in to it.
But you can't just have a plain ole bowl of cereal.
That would be boring. And we don't like to be boring around here.
♥ ♥ ♥
This was a yogurt mess of a cereal bowl. And topped with what? Of yes. Tons of fruit.
There was a Chobani vanilla greek yogurt in there, topped with a mix of cereals, frozen banana, fresh strawberries, raspberries and blueberries. A lovely drizzle of PB2 to top it off.
♥ ♥ ♥
Ready for your close up? Super goodness right there.
This bowl was so good, it had to be repeated a few days later.
♥ ♥ ♥
This one was pretty tasty as well. Instead of greek yogurt, I made a cottage cheese mess. Topped with of course a mesh of cereals, frozen banana, strawberries, raspberries, and you guessed it, a peanut butter drizzle.
♥ ♥ ♥
Close up of goodness right there.
This doesn't get old.
♥ ♥ ♥
More fruity goodness?
Oh yes.
♥ ♥ ♥
Rudi's english muffin topped with vanilla protein frosting, topped with banana and blueberries.
Simple goodness right there. I'm telling you.
♥ ♥ ♥
Have you seen enough cereal messes yet?
I didn't think so.
♥ ♥ ♥
I spy cinnamon Puffins! Topped with Chobani raspberry greek yogurt, banana, and a sprinkle of heaven peanut butter and jelly granola.
♥ ♥ ♥
Ok enough enough already. I know.
♥ ♥ ♥
I hope you enjoyed all my cereal goodness, because I sure have.
I hope you all have a wonderful rest of your week!
♥ ♥ ♥
Do you put anything on top of you cereal or just cereal and milk?
What's your favorite cereal topper?
What's your favorite cereal? I obviously can never decide of just one.
You can leave a response, or trackback from your own site.