wiaw #46 – sprinkle love and peanut butter goodness
Happy Wednesday loves!!
♥ ♥ ♥
Ok I feel like I have been way super chipper lately, but I really can't help it.
Not only did I become an aunt, but I am also in an audit class and do not have the stress of school. It is so relaxing I can't even describe.
If you've read a few of my other posts, you know how crazy stressed I was about school. So glad to be able to let my brain relax.
Along with the relaxation time, this girl has gotten back into the kitchen!
♥ ♥ ♥
So let's get on to What I Ate Wednesday
(Jenn I want to give you a quick shout out of how happy I am your marine is home!! ♥)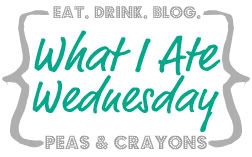 ♥ ♥ ♥
And for once I can actually show you some complete eats!
♥ ♥ ♥
Breakfast started out pretty epic.
I took my new gorgeous PowerCake and added a little celebratory goodness.
Everything is better with sprinkles right?
I think so.
I'm not going to lie, these PowerCakes do not get old. And now I keep adding to the goodness. I do think I need to branch out and maybe try some new flavor combo's. Now that I have the time the possibilities could be endless!
♥ ♥ ♥
And I actually  got a little creative with dinner. It is so nice not having to rush the dinner process so it doesn't cut into my studying time. What has my life become?
I took a spin off of Meg's Peanut Chicken and made this amazing dinner.
♥ ♥ ♥
I had bought a pack of yam noodles at the Asian market and have been dying to try them. They are similar to the tofu noodles I've had before so to cook them I threw them in the steamer with my broccoli and cauliflower. I marinated it all with some Braggs Amino Acids and crushed red pepper.
♥ ♥ ♥
Here is what I put into my peanut sauce.
Spicy Peanut Chicken Sauce
-2 tbsp peanut flour
2 tbsp water
-sprinkle of cinnamon
-squirt of sriracha
-sprinkle of sweetener of choice
(don't you guys know sprinkles and squirts are legit measurements?)
Basically season to taste.
♥ ♥ ♥
I cooked the chicken and at the end poured on the peanut sauce and cooked for a few more minutes to thicken.
It was amazing.
Matt had dodge ball that night, so he was home late, but as soon as he let me know he was on his way home, I quickly informed him I would have dinner waiting for him. Yes, he got the same thing. No, he was not disappointed.  This is a dish that will be repeated.
I am thinking next time I want to either make it with tempeh or tofu. I have been craving tempeh lately!
♥ ♥ ♥
Well loves I actually have more new goodies to share with you, but I will save it until next time.
I hope everyone is having a wonderful week!
♥ ♥ ♥
Have you tried any new products lately?
Have you made any new dishes lately?
And a shout out for some help! I just bought coconut flour and need some recipe ideas. Any suggestions?
♥ ♥ ♥
One more side note. The winner for my Good Bell Giveaway has not contacted me. The new winner is:
Renata please contact me at debbie(at)accidentlydelish(dot)com
You can leave a response, or trackback from your own site.