baby harper's first wiaw
Hello all! Yes I am still alive.
♥ ♥ ♥
I do apologize for my absence, but it was for a good cause.
I flew back to Indiana to visit my very first niece!
(Be prepared for baby picture over load)
♥ ♥ ♥
Everyone say hello to the most adorable baby girl ever, Harper.
♥ ♥ ♥
Ok, I may be a bit bias, but she is pretty freaking adorable.
I mean seriously. Look at that face.
♥ ♥ ♥
It was so amazing to be able to meet her so soon (she is 3 weeks) and it was great to be able to spend some time with my sister and her husband.
And with it being Wednesday and all, I thought it might be nice for Harper to join in on her very first What I Ate Wednesday.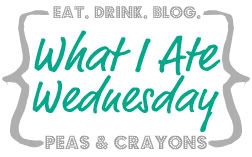 ♥ ♥ ♥
Poor Harper get's fed the same thing every 2 hours, could get pretty boring, and although I'm sure you would love to see a full post of baby bottles, we'll re-cap on my trip a bit instead.
Sound good?
♥ ♥ ♥
I of course was a bit nervous about the food situation and being away from home and my safe foods, but I love how I can now "go with the flow" more. I made due with what I had to work with. And with them being so busy, it wasn't much.
♥ ♥ ♥
I mean some of my meals resembled Harper's.
This may look like mush, but it was actually quite tasty.
Whole grain toast topped with strawberry jam and warmed up cinnamon banana mush.
Simple, yet satisfying.
♥ ♥ ♥
Most of my day consisted of baby time though and I loved every minute of it.
I love being an aunt.
♥ ♥ ♥
Since they were so busy with Harper, I offered to do a lot of the cooking, and the last night I was there I insisted on doing something fun.
Homemade pizza's it was!
♥ ♥ ♥
Todd did a mix of pepperoni and veggies, Angela kept it simple with pepperoni and cheese and I went veggie crazy and cheese less. Oh my goodness these were amazing and I enjoyed every last bite. You better believe I ate the whole thing.
♥ ♥ ♥
My time in Indiana was seriously amazing.
I also got to see my best friend Kimmie who just found out she herself is having a baby girl!
She was awesome and drove me to and from the airport from my sisters.
This is how we occupy our time on the drive.
♥ ♥ ♥
Starbucks stops of course.
♥ ♥ ♥
And silly pictures in drive thrus.
We're weird and we know it, but if you can't be silly with your best friend who can you be silly with?
♥ ♥ ♥
I also got to see my grandma.
Who in my opinion for an 80+ year old women fighting cancer, looks amazing!
Love my grams!
♥ ♥ ♥
All in all it was an amazing trip. Nothing too exciting happened, but the time I got to spend with my family and friends was amazing.
♥ ♥ ♥
Oh and just in case you were wondering where Harper's loyalties lie.
Yes she is a Colts fan and yes she is giving the middle finger to the Minnesota fans.
We all said we won because of her. Go with it.
♥ ♥ ♥
Well loves, I hope you are all having a wonderful week. I am exhausted and am trying to get use to the time zone change. I was sooo sleepy today, but I plan on hitting the hay early.
♥ ♥ ♥
Do you have any nieces or nephews?
Do you cook or clean when you stay as a guest?
You can leave a response, or trackback from your own site.