making boring sweet
Hello loves.
♥ ♥ ♥
I know I have been pretty MIA lately, but honestly it is because life has been pretty boring.
I do have some fun stuff to talk about in the near future, so I can promise you that.
♥ ♥ ♥
So I thought I would make a little appearance for What I Ate Wednesday, because maybe my meals aren't completely exciting, but I have had a few tasty treats lately.
And as per usual head over to the lovely Jenn's because her eats and others may be a bit more exciting than mine.
♥ ♥ ♥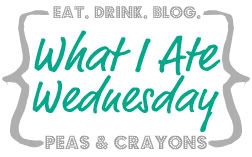 ♥ ♥ ♥
I do apologize for the lack of creativity, but eating on a tight budget has  made my meals turn into quite simple ones.
My breakfast's have been pretty repetitive, although I did whip up a very tasty spin on a recent obsession of mine.
This may look like a pretty typical P28 bagel breakfast topped with my obsession whipped cottage cheese, but I assure you this was a little bit special.
♥ ♥ ♥
♥ ♥ ♥
No, it's not the pretty fruit that makes it special, it is the extra ingredients in the whipped cottage cheese.
This is a mint chocolate protein whipped cottage cheese.
I added Fitmixer chocolate protein and added a few drops of NuNaturals liquid peppermint.
Oh.my.gosh.
It was tasty.
♥ ♥ ♥
♥ ♥ ♥
Bagels can be kind of boring, but not when topped with this goodness.
I'm almost considering having it again tomorrow.
Although this happened recently, so I'm pretty tempted to do an OIAJ.
♥ ♥ ♥
♥ ♥ ♥
I mean. Seriously.
Not only are empty nut butter jars something to celebrate, but if you all have not been blessed to have tried Wild Squirrel nut butters you are really missing out.
♥ ♥ ♥
So yes not many exciting meals, but thankfully I have class mates to make my eats a little more sweet.
♥ ♥ ♥
♥ ♥ ♥
Lemon cupcakes = super sweetness.
With a side of microbiology.
This made class worth it.
♥ ♥ ♥
I am also thankful for amazing #foodtwins who come to my boring food crisis.
Care packages like this make my meals and eats a little more exciting.
♥ ♥ ♥
♥ ♥ ♥
What you don't get squash in the mail?
Totally normal in my world.
Thank you to the beautiful Heather who literally is spicing up my meals.
♥ ♥ ♥
Oh and if my breakfast's weren't sweet enough I now have a little help in that department too.
♥ ♥ ♥
♥ ♥ ♥
Ok confession. This isn't just helping me in the breakfast department.
I'm dipping and spreading this stuff at basically every time of the day.
But really. Be jealous. Because I have the best foodie friends ever.
The best.
Sarah knows my obsession with her #nuttybutter so what better way to cheer a girl up.
♥ ♥ ♥
And if that's not amazing enough, I also recently won a giveaway for PeanutButterCo. peanut butter.
They are so amazing there, they not only sent me the three jars I won, but also extra goodies for me to try.
♥ ♥ ♥
♥ ♥ ♥
Ok seriously strawberry marshmallow fluff? I didn't even know this stuff existed.
And if you guys know anything about me, it's my jam/jelly obsession.
I'm sure you can imagine my excitement over these.
No really. I can't even describe.
So a special shout out to Lindsay at PeanutButterCo. and Brittany at BarrandTable who hosted the giveaway.
Both of you made me one very happy girl!
♥ ♥ ♥
So loves I hope you all are having a wonderful week.
And I hope you all have a very love filled Valentine's Day tomorrow!
Matt and I actually decided to go out even though money is tight, but we figured we both needed it.
Not sure what exactly we are doing, but I know a tasty dinner will be had.
♥ ♥ ♥
Do you have Valentine's Day plans?
Do you prefer romantic nights at home or a romantic dinner out?
You can leave a response, or trackback from your own site.