a bit of sweet & a bit of savory
Happy Wednesday my loves!
♥ ♥ ♥
I think I say this almost every week, but is anyone else's weeks just fly by? Having surgeries in class really makes my time fly by even quicker, which is good and bad. My days are exciting, class time is no longer sitting taking notes, but assisting in surgeries, but then at the same time, another week is gone in the blink of an eye.
♥ ♥ ♥
But I still find time for the important things in life.
Things like What I Ate Wednesday.
That's super important right? I think Jenn would say yes.
So make sure you head over and check out all the other eats as well. Because us foodies put a lot of time and effort into our meals.
We're so silly.
♥ ♥ ♥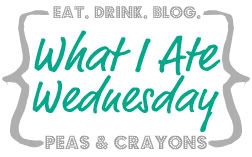 ♥ ♥ ♥
If you saw my last post you know I have had some pretty amazing breakfasts lately.
If you didn't here is a quick tease, but I highly suggest you check out the recipes.
♥ ♥ ♥
♥ ♥ ♥
I do have one more pretty epic oatmeal bowl to share with you and then I actually have new lunch/dinner AND dessert creations to share.
Oh my gosh. Who am I? I know.
I typically only put effort into my breakfast for some reason, so I am a bit surprised at how much I branched out with other meal ideas. I'm telling you, this not having to read as much is starting to take effect. What's it going to be like when I'm done with school and working like a normal person?
We'll deal with that when the time comes.
But first that epic breakfast I was telling you about.
♥ ♥ ♥
♥ ♥ ♥
I am addicted to loving my overnight TVP prOATs.
I make them doughy style by adding 1/2 a frozen banana in the morning and giving it a little whirl in my magic bullet.
Doughy and yummy.
And then of course topped with amazing-ness.
♥ ♥ ♥
♥ ♥ ♥
Other half of frozen banana, berries, Love Grown Crack Granola and this bowl got a sprinkle love from peanut flour and acai powder.
Who says oatmeal is boring? Not this girl.
♥ ♥ ♥
But on to the fun stuff. New sandwiches!
So I'm assuming most of you know what tempeh is and it's a food I always forget how much I love.
I mean, I could eat this stuff straight from the package.
And I did.
♥ ♥ ♥
♥ ♥ ♥
With the simple addition of blueberry jam, this sandwich was  going to be my #strangebutgood contribution, but then I made something more strange and more good, but this sandwich none the less was amazing.
But I didn't stop there. Because as great as it was raw and cold, I am a firm believer anything is better when made into a panini.
So I did that too.
♥ ♥ ♥
♥ ♥ ♥
Both sandwiches were made with P28 bread and this was actually the first time I toasted or used this bread on the panini maker.
This bread is even better toasted! I actually like the chewy texture of it cold, but it get's so crispy when toasted. It took this sandwich up a notch.
Am I the only one who likes to mix sweet and savory? I swear I could put jam on anything.
♥ ♥ ♥
And last but not least we come to dessert.
I typically always have like to have something sweet before bed.
Yogurt bowls are a common occurrence.
This one was extra delish.
♥ ♥ ♥
♥ ♥ ♥
Sprinkled with hershey's special dark chocolate, peanut flour, #cereal dust, and a few Figamajigs made it into there too.
Addicted to those things.
♥ ♥ ♥
Well loves I'm going to end on that sweet note.
I hope you all have a wonderful rest of you week.
I know mine will be done with the blink of the eye!
♥ ♥ ♥
Have you ever had tempeh?
Do you like your sandwich's warm or cold?
You can leave a response, or trackback from your own site.