distractions
This post almost didn't happen.
Not because I don't have anything to say, but because time seriously got away from me. Which is kind of weird, because I have seriously been such a slacker lately and I'm really hoping it won't end up biting me in the butt in the end. I typically am so good about coming home from school, studying until Matt get's home and then just read a little extra at the end of the night.
♥ ♥ ♥
Monday I made a random Trader Joe's trip, but it was because one of my bosses is leaving and she doesn't have a Trader Joe's by her and I know of some products she really likes, so I put together a little thank you/good luck/I'll miss you package. So I guess that's a legit excuse right?
Is it still legit when a few extra things may or may not have made it in my cart?
♥ ♥ ♥
♥ ♥ ♥
And by a few, I mean quite a few.
I had to make the best of the trip right? Right.
♥ ♥ ♥
Then Tuesday I made a pedicure date with a friend right after class, then ended up going to Matt's work to pick up a few packages that were delivered. So again, studying was put on the back burner.
But seriously, "air mail" from a beautiful fellow blogger is another totally legit reason for breaking the studying schedule.
♥ ♥ ♥
♥ ♥ ♥
I need to get back in the groove though!
But let's move on to the reason we're here today. Since time flew by that makes it time for What I Ate Wednesday.
♥ ♥ ♥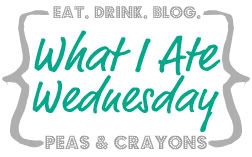 ♥ ♥ ♥
And as per usual make sure you head over to Jenn's and check out all the delicious eats. And don't be dumb like me and look at everyone's eats pre-breakfast. It's not smart I tell you.
♥ ♥ ♥
Speaking of breakfast, I had a pretty tasty one recently.
It started off adding almost every spice and extract I had to my pot of oatmeal.
♥ ♥ ♥
♥ ♥ ♥
As we learned with my latest dessert hummus creation, my baking style is add-taste-add-taste-add-taste.
Until I am happy with the final product.
My oatmeal is no different.
I can almost guarantee probably 2 other things were added to the pot while these were cooking.
But the end product was pretty delish.
♥ ♥ ♥
♥ ♥ ♥
And if added countless ingredients to the pot while cooking isn't enough, it didn't end there.
Then it turns into what can't I add on top.
♥ ♥ ♥
♥ ♥ ♥
I almost always have to have a frozen banana in my oats, the blueberries were starting to be on the brink of death, so they had to be used. Love Grown granola adds an amazing crunch that I love in my oatmeal so that was a must, and after seeing Sarah post 923842837432 pictures of cereal dust, I made my own and added that. Because seriously, Mom's Best Honey Grahams are ah-mazing.
♥ ♥ ♥
Wanna know a secret?
After I made this bowl. Took my pictures. I remembered I had an empty peanut butter jar.
I couldn't resist.
♥ ♥ ♥
♥ ♥ ♥
That beautiful bowl turned into this mess. Not that it really matters after the fact, and the added peanut butter was totally worth it. It always is.
And everything is better out of a jar.
♥ ♥ ♥
So that was my breakfast adventure, and I would love to share more adventures with you, but I am going to attempt to be productive and study.
I can almost guarantee you, it's not going to happen.
Have a wonderful week loves!
♥ ♥ ♥
Do you typically stay on schedule? Or play your days by ear?
♥ ♥ ♥
Be sure to enter my Conscious Box Giveaway if you haven't yet! There is still time!
You can leave a response, or trackback from your own site.