a photo dump of a day
Already Wednesday. Good golly Molly.
♥ ♥ ♥
I had all intentions of doing a Marvelous In My Monday post, but I swear there are just not enough hours in the day. Since I didn't get my post up for that, I want to say a belated Happy Birthday to the beautiful Katie!! Since I stalk follow her on Instagram I got to see what a marvelous day she had and she deserved a wonderful, relaxing birthday, so I am happy to see she had a great time.
But it's not Monday anymore. It's Wednesday, so let's get on to the Wednesday goodness.
The What I Ate Wednesday goodness. And this is thanks to another beautiful expecting lady Jenn.
Make sure to visit her and check out her and everyone elses eats. So yummy.
♥ ♥ ♥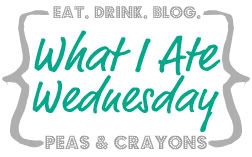 ♥ ♥ ♥
I actually have a ton to share with you. I am going to try and keep my words short and let the pictures speak for themselves, but you know me, I tend to ramble on quite a bit. So I apologize ahead of time if this post gets lengthy. But I actually have made some tasty meals and it's been awhile since I've posted, so this WIAW is kinda going to be a photo dump of what I've been eating lately.
Hope you don't mind.
Breakfasts around here have been pretty amazing.
♥ ♥ ♥
♥ ♥ ♥
Overnight TVP prOATs are making a pretty regular appearance around here. The one thing I love about oatmeal is I never have the same bowl twice.
By the way, I am so happy strawberries are back in season, because they have been so juicy and fresh. Fresh fruit makes me happy.
♥ ♥ ♥
♥ ♥ ♥
Proof I'll put my oatmeal in any empty jar I have.
But seriously, every last bit of fig butter needs to be enjoyed.
And enjoy I did.
♥ ♥ ♥
♥ ♥ ♥
And sometimes I let others do the work for me.
Love Grown did not disappoint with their oatmeal. I had been hearing amazing things about them and so glad I finally tried them.
Topped with more Love Grown granola of course.
♥ ♥ ♥
♥ ♥ ♥
I've also been on a protein frosting kick lately. But when you have company's like Plant Fusion and Click that make the best protein powders for making protein frosting's with, it's hard not to. Oh and a cinnamon over load on my apple of course.
♥ ♥ ♥
Now let's move on to some dinner fun.
So one thing that Matt and I are working on, is him cooking dinner. As I'm sure a lot of you know a biggest challenge of an eating disorder is control of food. Knowing exactly what goes into a dish, and having to be the one to prepare it. Much safer that way. Matt has also dropped the ball a few times on making me dinner, or following up with challenges we were suppose to do together. So this is really something we both needed to work on.
We had made plans to have him have dinner ready for me when I got home from work. I was actually convinced he forgot – again – to start cooking. But when I let him know I was on my way home his response was "dinner is smelling so good". He didn't forget!
When I got home I had a wonderful spread ready for me. He had made a crock pot chicken and I didn't even ask what he put into it. I didn't care, I was actually just so happy he remembered to make it.
I made myself a nice little huge bowl of goodness.
♥ ♥ ♥
♥ ♥ ♥
Brown rice, black beans, salsa chicken and look at all that avocado.
My nutritionist really wants me to up my fats, so I am really working on that as well.
And who doesn't love avocado? Love me some healthy fats.
And then guess what we did the next night?
♥ ♥ ♥
♥ ♥ ♥
Oh yes, long awaited sushi date. It has been so long since we had sushi and I have been craving it like a mad women.
We had gotten a Groupon for The Sushi Room, so I was finally able to convince Matt to take me.
So good. So worth it.
And after sushi?
♥ ♥ ♥
♥ ♥ ♥
What's a date night without fro-yo.
After taste testing probably every flavor I decided on the Pecans and Praline and Milk Chocolate Hazelnut.
With sprinkles of course. Duh.
Heaven in my mouth.
♥ ♥ ♥
After posting this picture on Instagram and Facebook, one of Matt's friends had commented how she loves fro-yo and challenged us to who can make the biggest bowl. Challenge accepted. Yup, we went out for more fro-yo the very next night.
No pictures, new friends = no food pictures yet. It was literally my first time meeting them, so I didn't want to seem too crazy. Although with some of the conversation that was had that night, me taking pictures of food probably would have been the least of strange things that could have happened. But trust  me, no shame, no guilt of having fro-yo two nights in a row.
Because honestly. Its's fro-yo. And delicious.
♥ ♥ ♥
Ok, I seriously have more to share, but this is getting pretty lengthy, so we're gonna leave with a
To Be Continued…
But one last teaser for my contribution for this weeks #strangebutgood hosted by the lovely Laura.
♥ ♥ ♥
♥ ♥ ♥
I'll give you a hint.
More healthy fats.
♥ ♥ ♥
How long do you wait before you take pictures of your food with new friends?
Would you eat fro-yo two nights in a row? If you answer anything other than heck yes, then there is something wrong with you 😉 Unless you don't like it, then there is something really wrong with you.
You can leave a response, or trackback from your own site.