ugly and delicious eats
Hello my luffs.
It's Wednesday yay!!!
Long weeks make me actually appreciate hump day.
♥ ♥ ♥
My days have been long, but exciting, so I guess it all evens out. My externship is giving me exposure to so many new things, and even though it's a bit frustrating I don't know how to do everything yet, it is also so exciting to experience it! (for example we had an emergency where a dog jumped though a window and ripped the tendons in his foot and was bleeding all over the place and then I delivered my first C-Section puppy and revived it back alive!)
♥ ♥ ♥
But as exciting as all that is, I know that is not why you're here. You're here for the foodie wonderfulness that is What I Ate Wednesday.
As per usual make sure to head over to Jenn's at Peas and Crayons to check out everyone's tasty treats. Way better than mine I betcha.
♥ ♥ ♥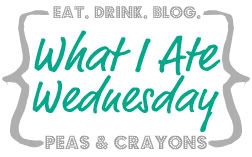 ♥ ♥ ♥
I am going to call this the ugly, but delicious edition, because that is seriously what my meals have been.
I have come to realize there are not many ways I can make eating breakfast in the car pretty.
So I quit trying.
♥ ♥ ♥
But a new breakfast obsession that I have come to love?
Breakfast Protein Wraps
♥ ♥ ♥
♥ ♥ ♥
My first breakfast wrap in the making.
Banana, peanut butter and chocolate fudge protein frosting.
Then things got ugly.
♥ ♥ ♥
♥ ♥ ♥
This is what happens when you have to eat in the car, at random stop lights, that always turn green right as you're biting, so then your food starts to get melty because you live in Arizona and it's already 100 degrees.
But even though it may not look super pretty, seriously, these things taste amazing.
Clearly hooked, I had another one the next morning.
♥ ♥ ♥
♥ ♥ ♥
This time I added some blueberries and cinnamon.
Same melty problem, but you guessed it.
Yup. Still tasted ah-mazing.
I then attempted to get creative and made a green egg wrap.
♥ ♥ ♥
♥ ♥ ♥
Fail.
The egg wrap totally fell apart and it quickly turned into a egg pancake in some classy tupperware topped with banana and peanut butter.
But again, still delicious.
And just so you don't have to stare at my ugly (but delicious) breakfast creations, I was actually impressed at the breakfast one of my co-workers created.
Talk about mountain of fruit goodness. She also used Chobani greek yogurt, so I was very impressed with that as well.
♥ ♥ ♥
♥ ♥ ♥
(Note: I totally took the risk of asking her if I could take a picture of her food. Did she think I was weird? Probably. I may have to explain myself later for this.)
We have a guy who boards his dogs with us at the clinic every Tuesday (I guess free of charge), so in return he brings us masses of fresh fruit and donuts or some baked treat. Fair trade if you ask me, and you better believe I gorge on that fruit. You guys know me and fruit. I'm obsessed.
♥ ♥ ♥
Well loves, I wish I had more to give you, but I think my ugly (but delicious) breakfasts are all I have to offer.
I hope you all have a wonderful rest of your week!
♥ ♥ ♥
Have you ever had to eat in your car?
(There is still time to enter my giveaway for Extend Nutrition snacks. Hurry over and enter!)
You can leave a response, or trackback from your own site.