getting back to normal
Hello my loves.
Are you sitting down? If not, take a seat, because something is about to happen here that has not happened in a very long time.
We're going to shake things up a bit for this What I Ate Wednesday so get ready.
♥ ♥ ♥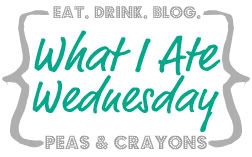 ♥ ♥ ♥
I know you're expecting repetitive pictures of my breakfasts like my delicious, yet repetitive and boring protein breakfast wraps.
I am obsessed with blackberries at the moment. I really didn't even think I liked them as much as I do. But the pint that I recently got, well I'm lucky that these few made it into the wrap, because the rest made it straight into my mouth.
But as mouth-watering as those blackberries are, I have something even more mouth watering to share with you.
♥ ♥ ♥
I haven't really talked about my status in my ED recovery on here lately. Basically because nothing new is really happening. I still need to gain. I'm not really gaining. But on a positive note I am doing amazing in terms of the mental aspect. I am way more accepting of the fact that food is food, I no longer feel guilty if I don't eat 100% healthy, and I let myself enjoy food for what it is.
One thing however that I really need to and want to work on though is my dinners.  And it's not really the food aspect of my dinners, but I really want to get back to cooking dinners with Matt, not for Matt. We use to cook together all the time, but those of you with eating disordered tendencies know we have to have complete control when it comes to our meals. (and this is why you constantly see us eating different and separate meals than our significant others or family)
So I actually thought of a great way for me to actually work on this (since half the time Matt drops the ball and shows no enthusiasm for pushing me to do this), I decided I would have my nutritionist give me a recipe once a week that I had to make, and I would then have to send her a picture to prove that I actually made it. She of course loved this idea.
The first dish she picked out for me was Chicken and Broccoli Casserole. And lucky for me Janetha had a great recipe just waiting for me to try.
So loves, the big surprise for you, I have a dinner recipe to share.
♥ ♥ ♥
Chicken Broccoli Casserole
(Adapted from this recipe)
♥ ♥ ♥
Ingredients:
1 lb chicken breasts, diced into 1" cubes
1 medium onion (I used white)
2.5 cups chopped broccoli
1.5 cups (cooked) brown rice
2- 10 oz can cream of chicken soup
1 cup 0% plain greek yogurt (I used Fage)
3/4 shredded cheese (I used monterey jack & mild cheddar)
salt, pepper, &  garlic powder (to taste)
♥ ♥ ♥
(Pre-baked)
♥ ♥ ♥
Directions:
Cook rice.
Steam broccoli.
In a saute pan cook chicken and onion until brown.
Combine cooked chicken, onions, broccoli, rice and remaining ingredients in mixing bowl. mix well.
Pour mixture into casserole dish. sprinkle with cheese.
Bake at 350 degrees, uncovered, until warmed through, about 15-20 minutes.
Or if you're like me and have to prep meals the night before, leave in the oven for about 25-30 minutes or until warm and bubbly.
♥ ♥ ♥
(Post-baked)
♥ ♥ ♥
Seriously guys, this was amazing.
For some reason I had been avoiding cheese (I'm sure some silly ED rule), but I will tell you I enjoyed every last bite of this dish guilt free.
It was that good.
Look at that yummy ooey gooey cheesy goodness.
And even better, we have left overs!
♥ ♥ ♥
This dinner really gave me a realization of how silly my ED rules are, because in all honesty this is a pretty healthy dish. But since I still have the thought process of "good" foods, "bad" foods, I wasn't allowing myself to eat dishes like this.
So I'm hoping in continuing with the challenge on making dishes like these for dinner, and actually cooking them with Matt and giving up some of that control, it can become my normal again.
Because that's what normal is, eating the same meals as your loved ones, sharing the cooking process, and not always having control over what's for dinner.
That is normal.
♥ ♥ ♥
Do you always have control over what's for dinner?
You can leave a response, or trackback from your own site.