mint chocolate chip plantain bread
Oh luvs.
Happy Wednesday.
No really. Happy Wednesday. If you're not happy now, you will be in a bit because I have some deliciousness to share with you today.
And what a better time than What I Ate Wednesday.
♥ ♥ ♥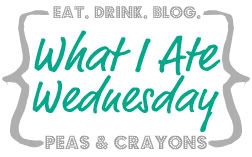 ♥ ♥ ♥
So before I share my delish dishes with you, make sure and head over and thank the beautiful Jenn for hosting and giving me the opportunity to drool over dishes I wish I could make. Thanks Jenn. ♥
♥ ♥ ♥
It's no secret my plantain bread obsession is still going strong.
♥ ♥ ♥
♥ ♥ ♥
♥ ♥ ♥
One would think I have a problem.
One might be right.
♥ ♥ ♥
But for now the obsession continues and experimentation with flavors continues.
I don't know why I didn't think of this sooner.
One of my favorite flavors in basically anything is Mint Chocolate Chip.
So began the next amazing plantain bread creation.
Mint Chocolate Chip Plantain Bread.
Genius.
♥ ♥ ♥
Topped off with none other than a delicious protein frosting.
This my friends was amazing.
♥ ♥ ♥
I made this like I make my original protein plantain bread, but I added peppermint stevia instead of vanilla, used chocolate protein powder and of course added the chocolate chips. Which are mandatory by the way.
♥ ♥ ♥
I was actually a bit nervous about this when it came out of the oven, because the smell was…off?
In taking my first bite I realized that this flavor profile might actually be better cold. I mean really when you think about mint chocolate chip flavors what comes to mind?
Mine goes to ice cream.
So I stuck this bad boy in the freezer for about 10 minutes to let it cool down, took another bite.
Heaven.
So I highly recommend if you make the bread in this flavor to eat it cold as well. Because it was ah-mazing.
♥ ♥ ♥
A few notes on this:
Be sparing with your peppermint stevia (I use NuNaturals). It packs a lot of punch.
A lot of you always ask what protein powder I use for my frosting and how I make it.
I use Plant Fusion and slowly mix with almond milk until I reach my desired consistency.
I'm pretty much convinced Plant Fusion protein powder makes the best frosting
♥ ♥ ♥
You know what else it's good in?
Something I should have made forever ago, but for some reason it took me forever to make.
Chocolate Banana Soft Serve.
I know. Nothing new to probably all of you out there. I mean really. Frozen banana, blender, it doesn't get easier than that.
I don't know why it took me so long to make it.
But I am glad I finally did.
♥ ♥ ♥
Well loves, if you haven't hopped on the plantain or banana soft serve train. It's time you did.
I was told the banana soft serve is amazing with peanut butter. But really. What isn't amazing with peanut butter?
(The answer is nothing)
♥ ♥ ♥
Have you ever made banana soft serve?
What's your favorite ice cream flavor?
You can leave a response, or trackback from your own site.