out with the old in with the new
Oh hello there my loves.
Wednesday already? The week is flying by, but having Monday off will do that to you. Although I am not complaining about having an extra day off. It makes the week and time go by a little bit faster, and speaking of that, is anyone else baffled that it is already September?
Time goes by way too quick.
But since it's Wednesday, it's time for What I Ate Wednesday. The time when we all share our wonderful eats with each other.
♥ ♥ ♥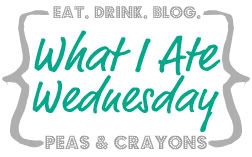 ♥ ♥ ♥
I debated what to feature for this What I Ate Wednesday.  I either was going to share my Labor Day fun night out with new friends, or share some fun happenings that have been going on in my very own kitchen.
As I confessed last time, my cooking mojo is basically non-existent, but that doesn't mean a few experiments haven't been happening in my kitchen. So I decided since I am working on getting my cooking mojo back and adding more variety back into my diet, that it might be better to share my personal kitchen happenings.
So that's what you get. Hope you don't mind.
♥ ♥ ♥
First let's look at a huge fail I had.
I found this recipe and thought it looked interesting. I love my breads, but I am always looking for healthier home made options.This spinach bread recipe looked promising.
♥ ♥ ♥
♥ ♥ ♥
It came out looking ok, but honestly, it went into the trash.The taste was. Well it was spinach. Now I don't not like spinach, but it just wasn't what I was going for. I really want to find a quick easy healthy home made bread recipe. I have been really wanting to try a few seedy bread recipes I have seen floating around. More like a power bread packed full of nutrients. So if you know of any good ones that you've tried please leave me a link!
♥ ♥ ♥
After posting my confessions post, I sat down with Matt and really had a good talk with him about what I was wanting to do. It kind of really works out, because he really wants to start eating healthier and I think I am finally at a place where I am ok with him wanting to lose weight and be healthy again. (I think part of my ED wanted him to be the "heavy" one. When you have an ED you almost live vicariously through others eating foods we will not, and we become food pushers) So Matt and I sat down and planned some healthy together meals.
A chickpea vegetable curry was first on the list.
I apologize because this dish was not photogenic in the slightest. But it was very tasty.
♥ ♥ ♥
♥ ♥ ♥
I followed the recipe basically to the T and my only complaint about this dish would be it wasn't "curry" enough. Maybe next time I will add more curry powder, but I love my spice and it only had a mild coconut curry taste. I like my flavors strong!
♥ ♥ ♥
Since I am just starting to work on adding variety to my diet, I still have some oldies but goodies to share with you.
One rut I am in is definitely kabocha. I'm not going to lie it's a rut I like being in, but I do need to take a break I think. But since I haven't yet, here are a few ways I have been enjoying it.
♥ ♥ ♥
♥ ♥ ♥
Roasted as usual in coconut oil and sprinkled with cinnamon, but then I drizzled it (confession I totally tried to be fancy and used a frosting piping technique to top this) with a simple chocolate protein frosting.
I was pretty proud of how pretty this was.
♥ ♥ ♥
♥ ♥ ♥
It was also pretty delicious. But when isn't kabocha?
♥ ♥ ♥
♥ ♥ ♥
I also made a delish key lime whipped cottage cheese dip.
I used my Barleans Key Lime Omega Swirl to give it the flavor and loved it.
I then proceeded to make a blueberry coconut flour dip that also tasted pretty great on kabocha.
♥ ♥ ♥
♥ ♥ ♥
See those parsnip chips in the background?
♥ ♥ ♥
♥ ♥ ♥
The blueberry coconut flour concoction tastes pretty good on those too.
I love to dip what can I say.
♥ ♥ ♥
Another obsession that is still going strong is my plantain bread.
Surprise surprise I know.
But it makes such a great snack.
♥ ♥ ♥
♥ ♥ ♥
And I'm still convinced Plant Fusion makes the best quick protein frosting.
I enjoyed this little snack post work out. Perfect combination of carbs and proteins. And tasty to boot!
♥ ♥ ♥
So as you can see I am starting to make some progress on getting variety back into my life.
Matt and I have some other pretty tasty meals planned.
My picks include Tempeh BLT's and a zucchini lasagna.  And Matt suggested home made pizzas and veggie burgers. All sound pretty delish to me. So even though switching things up is kind of scary, at least I will be eating good food in the process!
♥ ♥ ♥
Do you have any favorite recipes I can try to switch things up?
Do you have a home made bread recipe you love?
You can leave a response, or trackback from your own site.