simple meals with a new bread obsession
Happy Wednesday loves!
I am very happy this Wednesday!
Also exhausted, but happy.
Why so happy?
It's my one day off this week. One of the techs is on vacation so I am working extra days, which even though I am happy for the extra money, I am a wee bit tired. It doesn't help when you have emergencies walk in a half hour before closing and have to stay late. But that's the job and I'm all about saving the little critters when I can!
Unfortunately when I work such long hours meals tend to get a bit boring as well.
But since it is What I Ate Wednesday, I still managed to find some tasty fun things to share with you.
I'm lucky I got a little help.
♥ ♥ ♥
I recently received probably one of the best (and biggest) packages in the mail.
So big that Matt's co-workers all questioned him of what could possibly be in this huge box.
Allow me to share.
♥ ♥ ♥
I had been hearing amazing things about Silver Hills Bakery all over the blog land and Instagram. Being the carb obsessed person I am, I of course was intrigued and checked them out to see what they offered.  Not only do I love that they offer sprouted breads, which I love, but I also love that all of their ingredients are non-GMO and that each bread has a different added benefit. You should probably check out all their "flavors".
I think it goes without saying I was very interested in trying their products. Boy did they ever give me the opportunity.
Let be honest, we all know I love my bread. It is seriously one thing I could never live with out. (sorry paleo and low carb diets) But even when I saw all this I was blown away and questioned how I would ever consume all of it. Well thankfully I have Matt to help me, and bread freezes well. I am however not too worried, I've already made a huge dent in this.
Even though I don't follow a gluten free diet, for some strange reason gluten free breads have always intrigued me. Silver Hills Bakery offers two gluten free breads, both which sounded amazing to me.
So the first bread I decided to try was the Gluten Free Chia Chia.
Ok. Seriously hands down, regardless of being gluten free or not, one of the best breads I have had. I loved it. I seriously am probably a bit too excited over this considering it's just a piece of bread, but that's how much I liked it.
I topped a piece with Justin's chocolate almond butter,  SweetLeaf lemon infused Chobani greek yogurt and fresh berries.
Amazing.
♥ ♥ ♥
The next bread I tried was the The Big 16.
Not as pretty (eating breakfast in your car and lunch in the 5 minutes of free time we get, make for quick not pretty meals), but I managed to make some pretty tasty sandwiches that totally hit the spot.
A classic that never gets old: I toasted a piece of The Big 16 and topped it peanut butter and banana. Simple, but delish. For lunch I made a concoction of chocolate almond butter, cinnamon spiked pumpkin and home made vanilla peach jam. May not look pretty, tasted amazing. More proof that ugly food tastes better.
These are the only two breads I have tried so far, Matt tried the Squirrelly Sprouted Bagels (which got rave reviews from him), but if the rest of them are as good as the two I've had, well I know I won't be disappointed. So check back for more reviews on the products.
♥ ♥ ♥
I did however manage to eat a few things other than bread lately.
I showed you guys the vegetable chickpea curry I made with the complaint that it wasn't spicy enough.
Well I vamped up the leftovers, added more red curry paste and topped a potato with it instead of serving it over rice.
best.idea.ever.
It was like a total new dish.
♥ ♥ ♥
I also reunited with OIAJ. Never gets old.
Was so glad to have fresh berries back in the house and I am still loving the hemp seeds!
I swear sometimes the little things make me the happiest. OIAJ is one of them.
Well since this is getting pretty lengthy I will leave you with that, I know you all have plenty of other delish What I Ate Wednesday eats to check out so head over to Jenn's and check out all the other amazing eats that are going on.
♥ ♥ ♥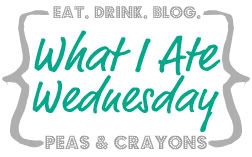 ♥ ♥ ♥
But I will leave you with more proof I am obsessed with bread and how small simple things make me a bit too happy.
Chia Chia topped with  a mixture of peanut butter, chocolate protein powder and almond milk and home made blueberry jam. An amazing drippy mess of deliciousness.
♥ ♥ ♥
Are you a bread lover?
What's your favorite sandwich?
You can leave a response, or trackback from your own site.