simple but delicious
Hello my beautiful friends.
I hope you all are having a wonderful week so far.
It's only Wednesday, but I feel like it is so much later in the week. My days have been long, busy and very tiring.
Thankfully I have a wonderful fiance who has had a glass of wine ready for me when I get home from work, I then quickly change into sweatpants and my nights turn into this.
♥ ♥ ♥
♥ ♥ ♥
I'm not complaining. Trust me.
But since this is What I Ate Wednesday time and all, I don't think all you want to hear and see are my drinking habits.
Those are pretty obvious anyways.
♥ ♥ ♥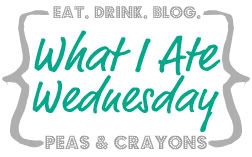 ♥ ♥ ♥
Things really haven't changed on the boring meal front.
That also doesn't mean boring isn't tasty.
But to start off I first want to say, when it comes to products I think people sometimes forget the aspect of customer service from companies we buy from and deal with frequently.
As I have proclaimed in the past, being the huge carb/bread girl that I am, of being obsessed with Silver Hills Bakery breads.
But in addition to their products being amazing, their customer service is amazing as well. And very much appreciated.
I had a few loafs of bread I thought had "gone bad". It may have happened in shipping, it may have very well been my fault. I contacted the company just to let them know and with no questions asked, they offered to replace my loaves.
Guys, sounds like a small thing, but being as I really wasn't looking for a replacement, I appreciated the offer that much more.
So I want to give a special shout out to Jodie at Silver Hills Bakery, thank you for the replacement, and thank you for just being so great to deal with.
♥ ♥ ♥
So let's get back to the food and my as per usual boring meals.
 It really is amazing how a good quality bread that tastes great on its own, can make a simple breakfast a delicious breakfast.
♥ ♥ ♥
♥ ♥ ♥
And yes, I am still obsessed with protein frosting, so this simple toast topped with Plant Fusion chocolate protein frosting was amazing, filling, and hit the spot.
It got even better with a homemade topping.
♥ ♥ ♥
♥ ♥ ♥
Silver Hills Gluten Free Chia Chia is seriously by far my favorite of the bunch. I am obsessed.
I am also obsessed with homemade chia jam. Especially of the mixed berry lemon ginger variety.
Again, two simple breakfasts that tasted amazing.
♥ ♥ ♥
Staying on the bread base trend, I finally found Thomas's Pumpkin Spice English Muffins.
But even though these were pretty tasty (I still like the bagels better) the toppings stole the show on this one.
♥ ♥ ♥
♥ ♥ ♥
Homemade drippy banana almond butter and homemade peach strawberry jam.
Oh man. This breakfast was the jam.
You know what other breakfast never disappoints?
♥ ♥ ♥
♥ ♥ ♥
I don't know a time when OIAJ has done me wrong, and this one totally got kicked up a notch, by a maybe #strangebutgood topping.
I also finally got more TVP, which I didn't realize until running out of it and using just a mix of grains how much I loved the texture the TVP gave my oat mixes. Glad to have it back.
But back to that swirl.  I don't know where I saw this idea, but I added a swirl of black strap molasses and it was ah-mazing. I can't even describe the flavor punch it gave the oatmeal. This will be happening again.
♥ ♥ ♥
Dinners have been simple still, but again, that does not mean they are not delicious.
♥ ♥ ♥
♥ ♥ ♥
Simple chicken drizzled with my spicy peanut sauce and sriracha dots served with steamed veggies and a bit of salsa verde for an extra kick.
Seriously, sometimes simple is the best.
Well loves, I am off to drink more wine relax a bit, I hope you all are too.
♥ ♥ ♥
What is your favorite simple meal?
You can leave a response, or trackback from your own site.