the good and the bad
Hey loves.
If you read my last post you know things have been kind of crazy around here due to the pup being sick.
With that being said, I wish I had a day full of delish eats to share with you, but unfortunately meals have been pretty low key and thrown together.
I can't even use the pup as an excuse, because honestly sometimes that's just my life.
♥ ♥ ♥
But before I bore you with my lack of effort meals and excuses I have to say even though life has been a little bit crazy lately, my fiance still manages to be simply amazing and out shine me.
What am I talking about?
Well it was our 8 year anniversary and guess who dropped the ball and forgot. He did. This girl.
With the pup being sick, me working like a mad woman, I totally spaced it. But what did I come home to?
♥ ♥ ♥
♥ ♥ ♥
An apartment covered in notes.
And these beauties.
♥ ♥ ♥
♥ ♥ ♥
Seriously I am one lucky lady. Matt is amazing, but honestly, sometimes he's not the most romantic. This meant more to me than any "fancy" gift he could have gotten me.
I was all smiles.
But enough mushy stuff. On to food!
Even though my meals have been blah blah boring, there have been a few high points with some tasty new to me products that have helped me through this crazy busy time.  There have also been some foods that may not have been the best choices, but that's life sometimes too.
So this is a very honest What I Ate Wednesday with what I have been eating lately to get me through these past few days.
♥ ♥ ♥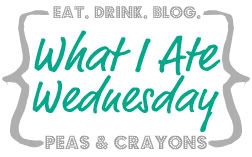 ♥ ♥ ♥
Sick puppy = lack of sleep = need a little boost in the morning.
♥ ♥ ♥
♥ ♥ ♥
I actually got this CoCo Cafe a few months ago from a foodie pen pal and it sat in my pantry for quite some time.
Um. Shame on me. This is amazing. I'm not even a huge coconut water fan, however I am a huge coffee fan. And luckily for me this taste more coffee than coconut. It was awesome. I loved it. I will be buying more of these in the future.
I've also been a snack monster lately. I do not know why, but my hunger has been out of control lately.
I'm learning to embrace that, honor my body and hunger and eat when it asks for food.
♥ ♥ ♥
♥ ♥ ♥
I got the opportunity to try the new Enjoy Life Chewy Bars and even though I'd have to say the Coco Loco is my favorite so far, this SunButter Crunch is pretty tasty as well.
I also found an amazing find at Sprouts while shopping the other day that has satisfied my snack monster.
♥ ♥ ♥
♥ ♥ ♥
I love peanuts. I love nori. What a great combination.
And a classic snack that never disappoints is anything by Chobani.
I got lucky/unlucky when they had that huge recall, in the sense that I had purchased a few bad products and had to throw them away.  But since the company is amazing, I received free replacement coupons in the mail and finally decided to cash in on them.
♥ ♥ ♥
♥ ♥ ♥
I seriously think I stood in the grocery aisle for about 15 minutes trying to decide which flavor of the Chobani Bites I wanted to try. They all sounded amazing. But since I pretty much love anything chocolate mint I thought this was a good choice. It was pretty tasty, and made a great late night snack. I definitely want to try some of the other flavors!
I also finally found more than one flavor of the flips!
♥ ♥ ♥
♥ ♥ ♥
This was a great flavor decision. Peach + Pistachio I'm pretty much convinced now are a match made in heaven.
So after all those tasty treats, let's move on to the things that most people I'm sure will shame me for having.
The quick convenient foods that sometimes just happen.
♥ ♥ ♥
♥ ♥ ♥
Oh McDonald's. It has been so long since I had a breakfast sandwich, but a client brought a bunch of them in for us. That's about all I could eat because as tasty as it was (guilty – I actually like their breakfast sandwiches) my tummy did not agree.
Lesson learned I suppose.
My next indulgence however every little part of me agreed with.
♥ ♥ ♥
♥ ♥ ♥
Because honestly, brownies are always ok and make everything better.
Am I right?
Well loves, I am hoping things settle down a bit over here.
But with little moments like these, the pup seemingly getting better, I think they will.
And I hope you all have a wonderful rest of your week.
♥ ♥ ♥
Do you forget anniversary's?
Would you prefer a fancy gift or an apartment full of love notes? With me it's the small things and the thought that goes behind a gift, not the price tag that matters most.
You can leave a response, or trackback from your own site.