happy new year 2014
Happy New Year!!
♥ ♥ ♥
♥ ♥ ♥
I want to start off by saying I wish you all the best for the new year. I wish you good health, love, success, but most of all happiness.
I also hope you all had a wonderful New Year's Eve, regardless of if you went out on the town and partied, or stayed home and celebrated in the comfort of your home.
My New Year's Eve was a bit of a spur of the moment kind of night. Very random. But it turned out perfect. Just not what we had planned. But those are the best times right?
Matt and I initially had plans to go out with a few friends. Those friends ended up canceling on us so we then decided we would just stay home instead.
Well, that all changed. I wanted to at least go out for a drink kind of just to say I did, so we went downtown to a restaurant in our fashion mall area.
It was dead. But that was actually ok with us. As we were having our drink our neighbors texted us asking us to join them at the bar they were at which was at a more busy/loud part of town. We debated back and forth about what we wanted to do and finally decided to just go for it. We were already out, it was new years eve, so why not?
This is my night in a snapshot.
♥ ♥ ♥
♥ ♥ ♥
It ended with cheap champagne, fireworks and a kiss from the man I love.
So in my opinion it turned into a pretty great New Years Eve.
♥ ♥ ♥
And what another great way to ring in the new year than with What I Ate Wednesday.
Because believe it or not I have some tasty new treats to share with you guys!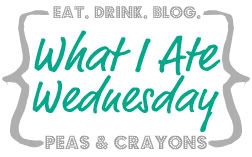 As I mentioned before I have been having fun experimenting and playing with my Christmas gifts.
The fun continues.
First with more waffles!
♥ ♥ ♥
♥ ♥ ♥
I am seriously obsessed with my waffle maker! I mean really waffles are no different than pancakes, but since I am such a texture person, I think the way the waffle bakes and gets crispy make them more appealing to me.
I am also having fun with my toppings as per usual.
As soon as I posted this picture on Instagram everyone immediately questioned the green goop of a topping. And once I mentioned what it's base was, of course then questioned on waffles!!.
Yes and yes.
♥ ♥ ♥
♥ ♥ ♥
This topping is what happens when I have multiple items going very very ripe that need to be used.
They get combined.
I had a very ripe avocado, a very ripe banana, and let's be honest, I add protein powder to everything.
So that's how this was created.
I would type out a fancy recipe, but really the above is pretty self explanatory.
Place your avocado, banana, protein powder (I used Growing Naturals Pea Protein – Vanilla Blast), and a bit of almond milk in a small blender or magic bullet and blend. You can also mash by hand if both are ripe enough. (which is what I did because I like it chunky) I also added a few drops of liquid stevia to sweeten it up a bit, but the banana should make it sweet enough, just depends on your preference.
I don't want to toot my own horn or anything, but this was pretty fabulous on top of my waffle.
♥ ♥ ♥
♥ ♥ ♥
Just saying.
After such success with my waffle iron, I thought it was time to try out another gift.
My silicone donut pan!
I have been dying to make donuts. Yes I know they are basically muffins, but again; just like texture, shapes are fun too.
♥ ♥ ♥
♥ ♥ ♥
I mean seriously, doesn't that just look tastier than a muffin?
I think so.
♥ ♥ ♥
♥ ♥ ♥
I had been scouring Pinterest for days to find the perfect donut recipe for me to start with, and this may come as a shocker to you guys, but I did not make a protein donut.
Whaaaaaaaaat?
Don't worry, they are next on my list.
I ended up finding a good base recipe and kind of tweaked it a bit.
The results were pretty good, but I definitely need to play around with it some more. I wanted a cake donut, but mine were still a bit too "wet" and not real cakey (side note, I totally had moist typed out, but I know that word skeeves some people out – however since I just admitted that, the word was said regardless. ha!). I either needed to bake them longer or change the flour/pumpkin ratio. Regardless a pretty tasty donut was made.
♥ ♥ ♥
♥ ♥ ♥
Carob Pumpkin Donuts
(based on this recipe)
Ingredients:
– 1/4 cup pure pumpkin
– 1/3 cup liquid egg whites
– 2 tbsp peanut flour
– 1 tbsp coconut flour
– 1 tbsp carob powder
– 1/2 tsp baking powder
– sweetener to taste  (I added a few drops of liquid stevia)
♥ ♥ ♥
♥ ♥ ♥
Directions:
– Pre heat your oven to 350 degrees.
– Mix all ingredients together. Batter should be wet and thick, but add more flour if it seems too wet.
– Bake in oven for 8-10 minutes or until a toothpick comes out clean.
– Let cool in pan before flipping out.
– Top with desired toppings and devour!
♥ ♥ ♥
I made a quick little protein frosting using my Growing Naturals Vanilla Blast Pea Protein (I am obsessed with this stuff) and added a few drops of English Toffee stevia.
Since mine were a bit wet and soft, I thought maybe letting them sit overnight they would stiffen up a bit.
They didn't.
They may or may not have fallen apart.
Breaking…
♥ ♥ ♥
♥ ♥ ♥
Broken.
But still tasty none the less. And really that's all that matters.
And while we're on the topic of "fails" here is one more.
For those of you who own juicers I am sure are aware of the massive amount of excess pulp waste you get.
The first few juices we just threw it away, then I got to thinking there had to be ways to use these left overs.
To Pinterest I went again and discovered there are multiple ways to use the left over pulps. Crackers, breads, muffins, etc.
I chose to start with attempting to make some pulp crackers since I love crackers, I had all the ingredients, it seemed the simplest.
♥ ♥ ♥
♥ ♥ ♥
Wrong. At least for me. It looked really promising when I mixed everything together, but I guess my pulp was wetter than I thought because it all completely stuck to the parchment paper. I kind of salvaged some pieces and tried to second bake them to make them more crispy. They weren't horrible by any means, but definitely not really a cracker.
Just something else to experiment with.
So maybe that should be my new years resolution. To keep experimenting and to come up with more successes.
Sounds like a tasty resolution to me!
♥ ♥ ♥
Did you go out or stay in for New Year's Eve?
Did you make any resolutions? I tend not to make new years resolutions because I feel like we should work on our goals constantly and regardless of the time of year. I want to be healthy, happy and successful always and don't need a new year to start that goal. It's a life goal.

You can leave a response, or trackback from your own site.