short and sweet
Hey loves!
This may be short and sweet.
Although only a short time into the week, it has been a long busy one with lots going on.
Work has been crazy busy and my parents got into town today.
I did want to stop in real quick for What I Ate Wednesday and share some tasty eats I have been having lately.
♥ ♥ ♥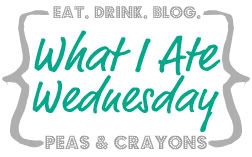 ♥ ♥ ♥
Some pretty. Some not so pretty. Some new. Some not so new.
But that's pretty typical with me.
♥ ♥ ♥
Something New
Purple potatoes!!
The lovely STUFT Mama has been posting these beauties all over Instagram and I had never seen them in my stores.  I finally spotted them and had to grab a few!
I was blown away at the color when cutting into them and I was very excited to see what they would taste like. I ended up roasted them like I would a sweet potato, cutting them into chips, drizzling with coconut oil and sprinkling with cinnamon.
They ended up tasting more like a regular white potato to me, so I think next time I will take a more savory route with them.
♥ ♥ ♥
Something Pretty
♥ ♥ ♥
I'm still having fun experimenting with my protein bread. And still loving my Sweet Spreads.
Seriously guys, these flavors are out of this world. So really even if I have a fail protein loaf, topped with this stuff just makes it automatically better.
♥ ♥ ♥
♥ ♥ ♥
Nori rolls drizzled with tahini.
Seriously can't get enough of the stuff.
(drizzled pretty for the picture, doused with 3x that amount after. love love love.)
♥ ♥ ♥
Not so pretty
I ran out of nori and had some broccoli slaw to use up. Problem solved by making a sweet and spicy peanut sauce and marinating the slaw in it.
It.Was.Delish.
For the sauce I just took about 1 tbsp peanut flour and mixed it with maple syrup, a few dashes Braggs Liquid Aminos, a few drops of Sriracha and water to thin. Add ingredients to your preference.
♥ ♥ ♥
Not so new
I have been trying to be a little bit more creative with my breakfasts, but one morning I was running so late breakfast turned into "throw whatever I can into a tortilla" It turned out pretty delish. I mixed Growing Naturals Vanilla Pea Protein, Cellucor Peanut Butter Marshmallow protein, some of my cookie dough hummus and sprinkled in some local seed mix and called it good.  It turned out way more tasty than I thought.
I also dipped it in some strawberry greek yogurt. Dipping never hurts.
♥ ♥ ♥
Well loves as promised short and sweet.
I have the rest of the week off work, but will probably be more busy running around with my parents.  Should be fun though.
So until next time…
♥ ♥ ♥
What are some of your quick go to meals when in a rush?
Have you ever tried purple potatoes?
You can leave a response, or trackback from your own site.