what i ate on vacation
Hello loves!
This post really serves a dual purpose.
1. I really want to gush and flood you with adorable pictures of my new niece. Because seriously, babies are the most amazing thing ever.
♥ ♥ ♥
♥ ♥ ♥
2. I really wanted to focus on something that I feel is a very important topic. When you live a healthy eating lifestyle it is so easy to get sucked into the "I have to eat perfect and clean 100% of the time".  I will admit I once lived in that world, but now a days, it's just not how I live my life.  I can't even say I believe in the 80/20 rule or everything in moderation view.  I really feel we should all just enjoy life, eat what we want when we want, and listen to our bodies.  Our bodies are so much smarter than we think and more than likely will not always crave or want junk.  I found this out in my weight gain journey when my nutritionist told me I needed to have desserts every night. My first fear was I would always crave a sweet treat, but trust me, after having ice cream every single night, you do in fact get sick of it.
But on to my more important point.  In visiting my niece I was a guest for 5 days at my parents and at my sisters.  This obviously meant I did not have my own kitchen with my own foods.  I was at their disposal on what they had and what they typically ate.  Of course the initial fear set in and the thoughts of "what if they eat foods I don't deem "healthy" or "safe". What is they want to go out every meal?  Well, then that's what I would do. And it was a great challenge for me.
So today I bring you what I ate while on vacation and how my body reacted.
Another concern I know a lot of people have is the fear of gaining weight when on vacation.  My views on this are even if you do gain a little bit of weight due to eating different foods, once you get back your body will more than likely balance out.  You don't lose 10 pounds overnight so it's silly to think you would gain 10 pounds in that short amount of time. And as mentioned, even if you did gain a few pounds, I can almost guarantee they aren't permanent and again it will balance out.
I will say probably 80% of my meals were eaten out on this trip. Starting with breakfast the day of travel.  Our flight was at 7:30am so needless to say breakfast was eaten at the airport.
♥ ♥ ♥
♥ ♥ ♥
Yup. Mimosa's at 7:00am. No shame.  Matt and I also shared a side of fresh fruit and then also grabbed some Chobani's to eat later on the plane. I also had a banana. Not quite the breakfast of champions, but that early…at an airport…our options were limited.
Needless to say when we landed we were starving.  My parents picked us up from the airport and we stopped for lunch at a place they really wanted to take us. Why? Because it had 30 beers on tap.  My parents know me too well.
♥ ♥ ♥
♥ ♥ ♥
I am so thankful that I have such a better relationship now with my parents. We all go through our hard times and I really feel our relationship is stronger now that we've moved past most of our issues. It's good to have fun with them again, because let's be real, they are where I get my quirky personality from.
♥ ♥ ♥
♥ ♥ ♥
For lunch I ordered the chicken avocado salad, which I was so happy to see came with tons of avocado.
The chicken was a little sub-par, but the lime vinaigrette it came with made up for the lack of flavor in the chicken.
After lunch we all actually took a nap and after we rested for a bit my mom and I ran to the store to get some last minute items for dinner.
And I was so excited about dinner.
Mom's home made taco's (that were made by Dad!)
♥ ♥ ♥
♥ ♥ ♥
This was one of my favorite meals growing up.  My mom always told me I didn't want to know what she put into her famous tacos as I probably wouldn't want to eat them if I knew, but whatever she puts in them…they were just as amazing as I remember.
Another small thing that really brought back some nostalgia was cooking the tortillas over the gas stove.  I don't know what it is, but it just makes them taste better.
After dinner my mom had bought oatmeal raisin cookies that she swore were better than her homemade. Which to me seemed impossible because I love her home made cookies. But let me tell you, these cookies were ah-mazing.
♥ ♥ ♥
♥ ♥ ♥
So good I took about half the container home with me. So good that half of those didn't make the trip home. I couldn't stop eating them!
The next day we packed up and headed to my sisters. We got on the road a bit later than anticipated and didn't make it to her house until around dinner time. We stopped by the store to pick up a quick dinner. With two little ones, quick easy dinners are needed so we picked up a few frozen pizza's and called it good.
♥ ♥ ♥
♥ ♥ ♥
I forgot to snap a picture, but we had the margherita pizza from California Kitchen.
Frozen pizza's are something I don't typically eat at home, but I sometimes forget how good they can be.
After dinner we all just lounged around spent time with my new niece Kaylee.
♥ ♥ ♥
♥ ♥ ♥
Babies are precious as is, but when it's your niece, they are extra precious.
I also got some sister love in right away.
♥ ♥ ♥
♥ ♥ ♥
While visiting my sister had two requests for me.
I make them biscuits and gravy and we go to Dairy Queen. ( I guess all my Dairy Queen posts on Instagram had her jealous and craving it )
Well that next morning I was able to fill one of those requests.
Biscuits and Gravy
♥ ♥ ♥
♥ ♥ ♥
I forgot the sausage when I had gone to the store, but she had some left over chorizo so we used that instead. I loved the added spice.
Even though my sister and her husband eat in turns, they both really enjoyed the breakfast and I loved cooking for them.  I know cooking meals is hard for them with two little ones, so I really loved that I could help them out.
My new niece Kaylee was having some acid reflux problems so needless to say things were a bit stressful for my sister. A 2 year old and a baby that basically is in pain every time she eats. I knew my sister was stressed, so when Harper went down for her nap we put the boys on baby duty and I took my sister out to get her very first pedicure. I think she deserved it.
♥ ♥ ♥
♥ ♥ ♥
She really enjoyed it and it was great to get out with her alone, relax and be able to catch up. I don't see her enough so I really loved spending some one on one time with her. After the pedicures request number two was filled.
Dairy Queen
♥ ♥ ♥
♥ ♥ ♥
I wasn't impressed with their swirls, but it still was a tasty treat! And my sister got her Dairy Queen fix!
That night for dinner we decided to do take out. My sister is an extremely picky eater, so we just let them decide where they wanted to go.
I like going to places that I don't have in Arizona, but my sister suggested Buffalo Wild Wings and really, I love that place so I wasn't too disappointed.
♥ ♥ ♥
♥ ♥ ♥
I use to be strictly a spicy garlic girl, but as of late I am an asian zing convert. Never thought the day would come…
I know what you're thinking by now. Pizza. Wings. And of course some of this…
♥ ♥ ♥
♥ ♥ ♥
Not the most healthy of foods. And from a girl with a past history of an eating disorder, you would think by now I would be freaking out.
Well, this really shows how far I've come, because I totally went with the flow. I think I was so happy to be around my family, food was not the focus. I will also note that I did not work out once this whole trip either. ( And maybe a bit TMI but my bowels were completely normal as well during and after the trip.  )
We decided to head back a little early to my parents since my sister seemed to be getting a bit overwhelmed with the new baby and having that many guests in her house.
I can't believe I forgot to take pictures, but we cooked up a great dinner that night at my parents. We all kind of contributed to a dish and it was just a wonderful home cooked meal. We had rotisserie chicken, oven roasted potatoes, fresh green beans and salad with veggies from their garden.  It was all delicious.
Our last day in town before we had to fly out we met for breakfast with one of my best friends who is also going to be a bridesmaid in my wedding.
She suggested this cute little cafe that I had never been to.
♥ ♥ ♥
♥ ♥ ♥
I ordered a veggie omelet with a side of fruit and whole wheat toast.
It's weird because I don't typically eat eggs at home, maybe because Matt hates them and we never have them in the house, but whenever I go to cute cafe's I always want to order omelets.
Kim's husband and daughter had joined us for breakfast, so it was great to get to spend time with all of them.
♥ ♥ ♥
♥ ♥ ♥
We went back to her house for a bit after breakfast just to catch up and of course talk about wedding stuff!
It was soon time to head back to my parents as they wanted to have lunch with us before they took us back to the airport.
Again, failed to snap a picture, but we to Applebee's to watch some of the football games and have lunch.  We ordered the pub pretzels and beer cheese dip as an appetizer (which actually the show stealer was the spicy mustard it was served with) and I got the strawberry and avocado chicken salad.  So I haven't been to an Applebee's in a long time, but honestly I think the avocado that came on this salad was by far the best I have had served on a salad in a while. It was perfectly ripe and creamy and they did not skimp on the amount. I'm pretty sure I had a whole avocado on my salad and I was perfectly OK with that. The chicken was also cooked and seasoned great. Way to go Applebee's!
We then headed off to the airport and surprisingly there was no line for security so we had some time to kill.  As per usual most the of the airport bars were packed, especially with the games on, but a very nice man offered us his table since he was alone and he saw we were looking. To repay his kindness we bought him a round and he was very appreciative.  Pay it forward people, there needs to be more random acts of kindness in today's world.
♥ ♥ ♥
♥ ♥ ♥
With the time change by time we landed I was starving. We decided to just eat at the airport because I honestly did not even think I could wait for the drive home with out chewing my arm off.
Most of the restaurants were actually closing, but we found one place that was still offering salads and appetizers.
And beer of course.
♥ ♥ ♥
♥ ♥ ♥
Yup more avocado. I think I ate the equivalent of about 5 avocados in 5 days. Again, not complaining.
We finally made it home and I passed out in probably 10 minutes flat.
So loves. That is what I ate while on vacation and let me tell you I did not regret a single meal.  Let me also tell you that I not only did not feel like I gained weight, I actually felt like I lost weight. I contribute it to listening to my body, not restricting, and in reality gave it what it wanted. More food.
So I am really living proof that eating pizza, wings, and drinking a lot of beer for a short period of time will not make you gain weight over night. I had a great time, I didn't let food control me and my choices and I went with the flow and did what normal people do. Adjust.
And I can't tell you how I great I feel for that.
♥ ♥ ♥
What's your view on eating on vacation?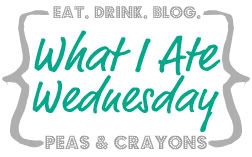 You can leave a response, or trackback from your own site.