chickpea protein brownie bites
I am the master of simplicity.
Breakfast use to be my favorite time to get fancy and creative, but this was before having to be at work at 6:30am.  Now breakfast is anything that is quick and portable. Not as fancy. I do miss my beautiful oatmeal bowl creations.
♥ ♥ ♥
♥ ♥ ♥
But long gone are those days.
More than likely even on my days off my breakfasts look like this.
♥ ♥ ♥
♥ ♥ ♥
Peanut Butter Toast.
But I made a random genius addition of adding crumbled graham crackers on top. It was a nice added crunch and flavor.
And to be even more plain.
Bagel with Cream Cheese.
♥ ♥ ♥
♥ ♥ ♥
However the fact that this was a P28 bagel and that I added Growing Naturals Vanilla Blast Pea Protein to the cream cheese took this up a notch as well. But still, pretty simple.
But then one day I got the baking bug. I don't know why, but one night I decided to actually experiment with a recipe I had seen and prep some protein muffins for my breakfasts.
I will admit in taking them out of the oven and tasting them I wasn't too impressed.  But after one night in the fridge, they got 100x better.
So my advice to you, if you make these, which you should, wait until the next day to eat them.
 Chickpea Protein Brownie Bites
♥ ♥ ♥
♥ ♥ ♥
Ingredients
– 1/2 cup chickpeas
– 1 scoop chocolate protein (30g) (I used Designer Whey)
– 1/4 cup unsweetened apple sauce (could use pumpkin)
– 3 tablespoon liquid egg whites
– 1 tablespoon unsweetened cocoa
– 1/2 teaspoon baking soda
– 2 tablespoon almond milk
– 1 teaspoon vanilla
– sweetener to taste (I used NuNaturals liquid vanilla and cocoa syrup)
♥ ♥ ♥
♥ ♥ ♥
Directions
– Drain and rinse chickpeas.
– Blend chickpeas, applesauce, egg whites and vanilla.
– Mix in remaining ingredients until well blended.
– Pour into muffin tin or brownie molds.
– Bake at 350 degrees for 20-25 minutes.
– Let cool and eat plain or top with desired frosting. *
* As mentioned I highly recommend storing these in the fridge over night and eating the next day. Also these topped with Sweet Spreads white chocolate coconut butter was pretty much amazing. Regular peanut butter I'm sure would be equally delicious.
I love that I can just grab a few of these in the morning and be on my way. Portable breakfasts are definitely a must now. I'm also excited to play around with the flavor and use different flavor protein powders.
♥ ♥ ♥
What are you favorite portable meals?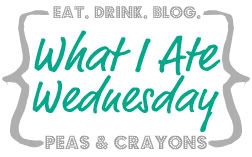 You can leave a response, or trackback from your own site.