Oh Wednesday. Welcome.
Since my schedule is different all the time, days really have no significance to me anymore. At least in terms of a work week.
But Wednesday's till have significance in the sense of What I Ate Wednesday.
♥ ♥ ♥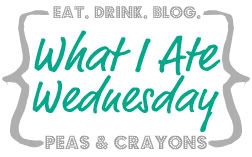 ♥ ♥ ♥
And loves, do I have some delicious things to share with you!
But first a big thank you to Jenn for hosting this wonderful party. Without her, I wouldn't have tons of food to drool over week after week.
If you follow me on Instagram you know my work day breakfasts are not the most exciting and kind of repetitive.
♥ ♥ ♥
♥ ♥ ♥
Breakfast wraps with whatever fruit I happen to have. Although banana and peanut butter are always a must. My two constants that I just have to have.
♥ ♥ ♥
♥ ♥ ♥
And if I am lucky enough to have an empty jar laying around, OIAJ happens sometimes too.
Although I have so many empty plain jars, that sometimes I just take peanut butter and spread it around the sides and pretend it was an empty nut butter jar.
Gotta get creative sometimes.
♥ ♥ ♥
But when it comes to my days off. Well breakfast is a whole other story.
And since I am still plantain obsessed, I make sure to go buy one to have ready for me.
But this time around I didn't stick to my normal protein plantain pizza.
♥ ♥ ♥
♥ ♥ ♥
I got a bit more creative.
The first time around I decided instead of the pizza form to make a sandwich out of the plantain bread.
♥ ♥ ♥
♥ ♥ ♥
I used my Click mocha protein frosting as the filling.
♥ ♥ ♥
♥ ♥ ♥
Yup. This was pretty much amazing.
Kinda messy, but delicious none the less.
I'm thinking the next time I make this I am going to stick it in the freezer and make a plantain ice cream sandwich out of it. How amazing does that sound?
For my other half I made a nice little swirl of a topping.
♥ ♥ ♥
♥ ♥ ♥
Indecisiveness will always be an issue with me. I work with it though.
The next day off included you guessed it. More plantain bread.
Gotta get my fill in for the week you know?
But I got really creative with this batch.
I have been wanting to make carrot cake bread for some time now, but I don't want to make a whole loaf because I know I won't eat it in time, and I hate to waste food.
So my solution? A single batch of Carrot Cake Plantain Bread.
♥ ♥ ♥
♥ ♥ ♥
I would love to share the recipe, but with not having baked with vegetables in a bread before I wasn't aware at how much moisture the carrots would add. So it's not quite perfected yet.
But that doesn't mean it wasn't delicious. Because it was.
♥ ♥ ♥
♥ ♥ ♥
I probably could have eaten this plain straight out of the oven, but of course toppings were needed.
♥ ♥ ♥
♥ ♥ ♥
I made a protein cream cheese frosting by whipping cottage cheese with vanilla protein powder, cinnamon, and SweetLeaf vanilla Sweet Drops
With a little extra carrots on top for good measure.
♥ ♥ ♥
♥ ♥ ♥
Just a little piece of carrot cake heaven.
I will definitely be experimenting more not only with carrots, but other veggies and add in's as well.
The possibilities with this plantain bread are really endless.
♥ ♥ ♥
Have you baked with vegetables before?