Holy school rules my life batman.
♥ ♥ ♥
I seriously am so freakin' busy studying/reading/studying/reading/studying/studying/studying I really feel like it has taken over my life!
Good and bad. It's definitely a positive thing in my life right now, but thank goodness, it's the only thing going on.  We are required to do 40 hours of volunteer work, which I need to get on top of and find a place, because as classes progress they will be harder, so it would be better to get it done with earlier rather than later.  This is a good mental reminder!
♥ ♥ ♥
So I really apologize for my MIA status. I really miss blogging and I really miss reading a lot of blogs that I love so much, but seriously I have no time.   I feel though like I can not neglect What I Ate Wednesday.  It's my time to catch up with all of my loves. ♥ (that's you guys. duh)
So please comment and tell me how you all are doing, because I want to know and I miss you all so!
♥ ♥ ♥
So before I begin let's head over to the wonder Jenn's at PeasandCrayons and thank her for hosting What I Ate Wednesday.  Because honestly right now without her, I might not be blogging at all!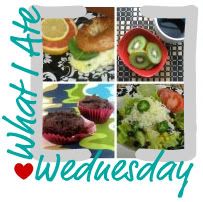 But of course as I have said and made the excuse in my past few posts, these are not my meals from one day, but highlights that I was able to capture!
♥ ♥ ♥
I have been doing quick easy breakfasts lately, basically due to me being so rushed in the morning.  I actually find I can concentrate better in the morning, so I sometimes try to hit the library on my way to school, so I am having to leave the house earlier, and don't have as much time to dilly daddle around.  Which also means breakfast. So bear with me on the boredom of them.
♥ ♥ ♥
I have always seen people make their egg sandwiches, with the addition of jelly.  Something I had never done.  Usually when I make eggs, I slather them in salsa, well because I love salsa, and I'm still not a huge fan of eggs.
  I actually found the I prefer the egg white beaters over the regular, so that has helped a bit.  But I need to get my protein in, so eggs are making more of an appearance.  Well I love jelly, and I figured this was a nice way to make a savory dish a bit sweeter, because we all know I love my sweet.
Remember this guy? Man. It's been a while. Maybe I should make one soon.
♥ ♥ ♥
Anywho. Back on to the current.  I decided to finally add a little sweet to my eggs instead of the standard savory.
so.glad.i.did.
This was good.
Seriously I don't know how people lightly spread jam and jelly. I love the stuff.
I do believe I also had some Chobani blueberry yogurt on the side. Did a little dippings. Yea. I went there.
♥ ♥ ♥
And with this breakfast. Came another breakfast.
So yea I like to slather on the jelly. Ok by me, because it gave me the opportunity to make this little guy.
Now nothing beats a good nut butter OIAJ, but I fancy the jelly ones as well.
Obviously.
Going back to school is an amazing thing. Not having a job and now having a monthly school payment. Not so amazing.
Oh! So in my last post I had a few people recommend the Trader Joe's peppermint tea. Now we all know my love for Trader Joe's and my current obsession with holiday tea.  I forgot about it on our trip to TJ's, but thankfully saw it on an aisle end cap. Into my cart it went!
I also made a comment about how I am jealous of Matt's meals.  Some of them are ones I cook for him.
One downfall to an ED is you tend to "shove" food on others, so Matt actually hasn't been letting me cook for him lately. Unless it's dinner and we eat the same thing.  That's kind of his rule.  But I had a triumph against ED one morning and he let me cook him breakfast!
He said everything was pretty tasty, so it made me happy!
(this was my OIAJ day so I was pretty happy with my breakfast as well)
♥ ♥ ♥
This is my last week of class. Well this class. Phew. I made it through one!
So this weekend I will actually be able to RELAX.
Hopefully I will be able to get some real cooking done and will have something more interesting to share with you guys next time.
Until then know I love and miss you all dearly.
I hope everyone is having a wonderful week!
♥ ♥ ♥
What do you make when you are short on time?
Do you have go to foods? Meals?
Any quick dinner ideas?