Hello all.
♥ ♥ ♥
This is going to be really short, but I did want to write one more post before I headed back to Indiana for my grandma's funeral.  I am so happy that I am able to go back to be with my family, but also a bit torn, nervous, anxious about the whole situation.
I don't talk much about my parents on here, well because I haven't had the best relationship with them over the past few years.  If you have followed me for awhile you kind of know the story, if not, let's leave it at they were not supportive at all during my recovery from my ED.  But as I get better and have progressed in my recovery, we are slowly trying to build a relationship again.  It's a work in progress.
But with it being What I Ate Wednesday and all, I thought I would show you guys a quick peek at some of the goodies I have been eating lately.
♥ ♥ ♥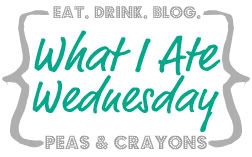 ♥ ♥ ♥
Although if you know me, they will be some pretty repetitive eats.
When I got the news about my grandma, I was a bit torn. Part of me had been expecting this for some time, so I was almost kind of prepared. She had been battling cancer for over a year and when first diagnosed we were told she had about 2 months to live.  Those 2 months turned into over a year, she was defiantly a fighter and I guess just wasn't ready yet.  This is why I truly believe this was her time and she is in a better place now.  But of course there is a huge part of me that is just so heart broken that she is actually gone.
That night I pretty much drowned my sorrows in kabotcha.
♥ ♥ ♥
♥ ♥ ♥
I know it's not completely healthy to find comfort in food, but that night all I wanted to do was relax, have a glass of wine, and basically demolish a whole kabotcha.
So yes, this meal is boring, ugly, and repetitive, but it was what I wanted.
♥ ♥ ♥
Another maybe repetitive idea, but an amazing twist was my protein plantain bread.
Since I knew I was leaving town and still had half a plantain in the fridge, I figured I would test how the plantain bread would travel.
♥ ♥ ♥
♥ ♥ ♥
I know it's not as pretty in tupperware, but I'm telling you, this base was one of the most delish I have made to date.
I added Click mocha protein and a bunch (and I mean way more than a normal person would or should add) of cinnamon and a splash of vanilla. Honestly, this would have been amazing plain.
♥ ♥ ♥
♥ ♥ ♥
But we all know me, and I don't do plain. So a swirl of Plant Fusion chocolate protein frosting and peanut butter was added on top.
Yup, took it up a notch. And if you were wondering, the plantain bread travels well and tastes great eaten in a car out of tupperware.
♥ ♥ ♥
And one more quick thing to share.
I just wanted to prove to you all that no jar goes unused in my house.
♥ ♥ ♥
♥ ♥ ♥
We all know I am a jam addict, so when this opportunity presented itself, I knew this empty jar of pear jam had to be filled with overnight prOATs. Mixed in was frozen banana, berries and topped with healthy chocolate sauce.
Overflowing goodness is what this was.
♥ ♥ ♥
And just for good repetitive measure. The protein breakfast wraps are still going strong too.
Yup, just as messy as ever, but still just as delish.
Some things never get old.
♥ ♥ ♥
Well loves, I hope you all have a great week. I am going to try to make the best of the next few days and just embrace being with family and friends even though the circumstances are not the best.
♥ ♥ ♥
How do you cope with bad news?
Do you crave certain foods over and over? And in my case over and over and over…