Well loves if you read my last post, you know how I feel about today.
Is it Friday yet?
But you also know there is a part of Wednesday that is a bit exciting.
♥ ♥ ♥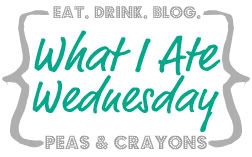 ♥ ♥ ♥
You guessed it.
I actually have eaten some amazing food, no thanks to my cooking skills, but Matt and I had been invited to one of his co-workers for dinner. Since he is still new at the job and this was the first time I met them, I decided to not take any pictures.
But let me tell you. The meal was amazing.
Cowboy caviar (which is seriously crack in a bowl – heeellllooo avocados), grilled zucchini, grilled portabella mushroom topped with garlic spinach and cheese, artichokes, oven roasted potatoes, and bbq chicken. Seriously all cooked to perfection. I ate so much food, but I seriously could not stop, it was so good. It was a fun night overall and we had a great time.
♥ ♥ ♥
But since I can't show you any of that deliciousness, I have a few things that I can show with you.
Oatmeal has came back into my life. It tends to happen when I have these laying around.
♥ ♥ ♥
♥ ♥ ♥
I actually stole this jar from work.
I made a base of vanilla cinnamon overnight prOATs and topped it off with some frozen banana, local granola, shredded coconut and Enjoy Life chocolate chips. Because we all need a little chocolate in the morning.
This got me on an oatmeal kick, so I had them again the next day.
♥ ♥ ♥
♥ ♥ ♥
Since I was still kind of on a coconut kick I added coconut butter and shreds not only while cooking, but also another huge spoonful of Sweet Spreads cinnamon roll butter and more shredded coconut.
(side note: this was transferred into a jar for travel convenience shortly after)
And to keep trucking with coconut…
♥ ♥ ♥
♥ ♥ ♥
It kept coming with my waffles. Since we're not actually getting any snow in Arizona, I like the effect shredded coconut gives my food. Kinda like snow right?
Ok, maybe not at all, but we can pretend. It still tasted pretty dang delicious.
Then I started getting lazy with my breakfasts, but sometimes simple is the tastiest.
♥ ♥ ♥
♥ ♥ ♥
Because sometimes a bagel with cream cheese and jam is all you want. And sometimes you don't even make it pretty.
It's not all breakfast around here though.
I did manage to whip up a simple tuna veggie nori roll that was pretty tasty.
♥ ♥ ♥
♥ ♥ ♥
This was later doused in tahini. I've been obsessed with the stuff lately!
And for dessert?
Well even though my poppy seed cake wasn't a total success.
It also wasn't a total failure.
♥ ♥ ♥
♥ ♥ ♥
I mean someone had to eat it. Might as well be me!
Speaking of dessert.
This happened tonight.
And it was pretty wonderful
♥ ♥ ♥
♥ ♥ ♥
Proof I do eat things other than frozen yogurt.
Well loves, I hope you all have a great week.
♥ ♥ ♥
What are some eats you're enjoying lately?