I love Friday's.
Not only for the obvious end of the week start of the weekend reasons, but because it's time for Laura's #strangebutgood spotlights.
Why do I love this so much you ask?
Because it's a time for my normal to me, but strange to others eats to be celebrated.
♥ ♥ ♥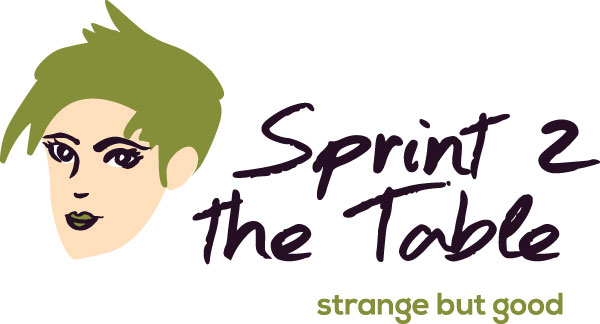 ♥ ♥ ♥
As we saw last time, I love my spreads and dips.
Well this week is kind of no different.
I had gotten an avocado and kind of forgot about it.
Whoops.
It got a bit ripe.
So what is one to do?
Maybe a normal person would make guacamole or something, but not this girl.
She  took half of it and added unsweetened cocoa, chocolate protein powder and a few drops of SweetLeaf Vanilla sweetdrops  to it and called it delish.
♥ ♥ ♥
♥ ♥ ♥
I then proceeded to take a piece of Ezekiel bread, spread some home made blueberry jam on it and top it with my new avocado concoction.
♥ ♥ ♥
♥ ♥ ♥
#strangebutgood? Maybe to some. Completely normal to me.
So you may be thinking and asking what I did with the other half of that avocado.
If you're not, I'm going to tell you anyways.
I made another spread/mash out of it.
To this one I added peanut flour and a splash of maple syrup.
What did I do with this one?
Well I made a sweet potato sandwich out of it of course.
♥ ♥ ♥
♥ ♥ ♥
Next time it may be smarter to cut the pieces smaller, as this sandwich was kind of chunky, but I made it work.
♥ ♥ ♥
♥ ♥ ♥
Now I don't think all of these things combined is so strange. Well ok: avocado, peanut flour, sweet potato…maybe. But I swear it works!
♥ ♥ ♥
♥ ♥ ♥
This probably would have been even more amazing toasted and made into a panini.
Dang it, why didn't I think of that earlier?
Next time.
♥ ♥ ♥
One more thing before I go since we're on the topic of spreads.
This combination is not strange. It is however good. Nothing too spectacular to really deserve much of a spotlight, but it was good enough that I feel like I have to share.
♥ ♥ ♥
♥ ♥ ♥
Whole wheat toast, peanut butter, banana mash, honey drizzle.
Simple. Yet amazing.
Why are the simple things in life sometimes the best?
♥ ♥ ♥
What's your favorite simple meal?