Oh hello my loves.
I am going to apologize in advance if this post is full of misspelled words, bad grammar and incomplete sentences. It is being written very quickly and on very few hours of sleep.  Yes I could have postponed it, but since it is What I Ate Wednesday and I actually have some tasty things to share with you, I made it happen.
So let's get to it shall we?
♥ ♥ ♥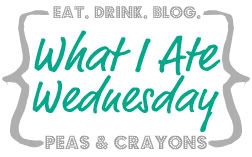 ♥ ♥ ♥
What would my What I Ate Wednesday post be if it didn't include plantain bread. I mean really, who would I be?
And especially since one of my favorite seasons has begun (no not pumpkin) I had to create a new flavor.
Next to banana's, apples are probably my favorite fruit, and I love apple season because my beloved Honey Crisp (the size of my head) start to appear.
So thus a new plantain bread was created.
Apple Spice Plantain Bread
♥ ♥ ♥
Basically followed the recipe for my Pumpkin Spice Plantain Bread, but subbed in apple pie spice instead of pumpkin pie spice and unsweetened apple sauce in place of the pure pumpkin.
♥ ♥ ♥
♥ ♥ ♥
I topped this with a protein apple frosting which was plain Chobani greek yogurt mixed with vanilla protein powder (I used Plant Fusion – vanilla bean) and more apple pie spice.
♥ ♥ ♥
♥ ♥ ♥
I may be biased because I love apples so much, but this was beyond amazing. It smelled like warm apple pie coming out of the oven.
I say this probably after every new plantain bread, but I really think this is one of my favorites.
Until I create the next.
♥ ♥ ♥
Another tasty creation that I whipped up was made based on the fact that my nutritionist and I are trying to find ways to increase my fats in my diet.
Yes I could just eat plain avocados, nuts, nut butters, or coconut oil but I like to create and make things interesting.
Since I love my frosting's and dips so much it's no surprise that's what I wanted to make.
And no surprise where my inspiration came from.
Two things I really wanted to try was The PurelyTwins and their Chocolate Protein English Muffin with Cashew Lucuma Frosting.
I had attempted the english muffin before (and failed), but never the frosting.
Well, I didn't have lucuma, but I did have some cashews sitting around. So after searching Pinterest for some cashew cream recipes (and finding out it's basically just cashews, water and vanilla), I took a shot at it.
♥ ♥ ♥
♥ ♥ ♥
As you can see I added a wee bit too much water.
So my solution was to add some chia seeds to it, let it sit, and hope it would soak up some of the liquid.
♥ ♥ ♥
♥ ♥ ♥
It sort of worked, but not as much as I hoped.
But good news, even though it was more a milk than a cream, it was still super tasty, so I am going to take another shot at it, add less water and hope for more of a cream like texture next time.
I will keep you updated.
But I didn't want this to go to waste, so I added it to another new to me food find.
We all know about my kabocha squash addiction, but there are other squashes I had heard so much about that I decided need a fair shot.
Carnival Squash was a winner with me, so next on my list was Delicata Squash.
♥ ♥ ♥
♥ ♥ ♥
I roasted this basically the same way I roast my kabocha, but then drizzled my cashew cream chia milk on top and I must say it was pretty delish.
Another squash winner.
Well loves, I actually have more to share, but I am falling asleep at the keyboard, so it will just have to wait till a later time.
I hope you all are having a wonderful week and pray for me that I make it through the rest of mine.
♥ ♥ ♥
What's your favorite dip/spread to make?